A fund has been created for the Bowling Green massacre – but there's a twist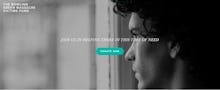 Following Kellyanne Conway's invention of the Bowling Green massacre, which took an untold number of lives and whose devastation is still tearing our communities apart, a fund, called the Bowling Green Massacre Victims Fund, has been created to assist "the victims and families directly affected by the Bowling Green massacre."
There's just one catch: The Bowling Green massacre never happened, and if you click any button to donate on the Bowling Green Massacre Victims Fund, it redirects to the ACLU's donation page.
The page even includes Conway's quote that started it all:
I bet it's brand new information to people that President Obama had a six-month ban on the Iraqi refugee program after two Iraqis came here to this country, were radicalized and they were the masterminds behind the Bowling Green massacre.
Kellyanne Conway
"We all still carry the vivid memories of what horrors occurred at Bowling Green, but some still relive those moments everyday as they work to rebuild a community torn apart," the page reads.
Again: There is no such thing as the Bowling Green massacre. Bowling Green, Kentucky, exists, but there's never been a massacre there, especially not a terrorist attack like Conway suggested. She later clarified that she was talking about refugees living in the U.S. who plotted an attack in the Middle East – but they were captured and never intended an attack on American soil in the first place.
But the correction came too late. Soon after she referenced the nonexistent massacre on Thursday night, the internet quickly grabbed hold of the gaffe and flooded social media with somber remembrances of the imaginary victims of the massacre that never was.
The Bowling Green Massacre Victims Fund has no known author; its page source information reads "Parody. Not affiliated with anyone in particular." However, it appears the page was set up either late Thursday night or very early Friday, as the first tweet with a link directing to the fund page hit Twitter just before 2 a.m. Eastern Friday morning.
"As we join together with our thoughts and prayers," the page reads, "we will always remember how our fortitude and compassion unite us all through these difficult times."