'Pokemon Go' Mewtwo Event Concept: Fan project yields some gorgeous artwork, but no update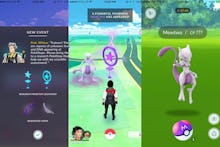 Veteran Pokémon Go players want Mewtwo. Niantic promised a showdown with the legendary creature when it released the first trailer for the game in September 2015. We're still waiting, but some players have taken matters into their own hands with impressive Pokémon Go Mewtwo event concept artwork.
One fan has come up with some beautiful ideas and art to match, showing how Mewtwo could make his appearance. With no clues from Niantic as to when Mewtwo will actually show up in Pokémon Go, this is as good an idea as any.
Pokémon Go Mewtwo event: Anxiously awaiting the arrival
In Pokémon lore, Mewtwo is an artificial creation, a combination of a recovered baby Mew Pokémon, mixed with some nasty genetic science. Mewtwo was introduced as "boss" character in Pokémon Blue and Red, a final obstacle to battle and capture at the end of the adventure.
This might be precisely the challenge that Niantic faces, in figuring out how to introduce Mewtwo. There is no "story" in Pokémon Go. The live-action trailer delivers the right vibe, pitting a bunch of Pokémon Go players together to fight Mewtwo, the "boss" character, in New York's Times Square. 
That's a colossal boss fight that would be awesome to see and amazing for longtime Pokémon fans to participate in. But so far there is nothing within Pokémon Go's code that any analyst can find to suggest when Mewtwo will actually be added to the game. 
Pokémon Go Mewtwo event concept: Fan art looks shockingly real
Enter Albert Choi, an aspiring product designer who put together what might be considered an ad pitch. He created an outline for an event that Niantic could throw to introduce Mewtwo to Pokémon Go.
Choi imagines the introduction of Mewtwo as a quest given out by Professor Willow, the Pokémon patriarch to whom you trade Pokémon for candy in Pokémon Go. Professor Willow tells the player that he needs evidence of weird DNA that's been left behind at specific PokéStops. 
The "evidence" takes the form of new items that can be generated from a PokéStop spin: unknown DNA and a fossil. The player then has to bring that evidence to specific PokéStops that have been designated as "research stops" and are clearly designated on the game map.
Pokémon Go Mewtwo event concept: Not quite Times Square
Choi's proposed design then calls for players to bring their evidence to the research stops until a certain amount of evidence has been collectively donated. When that score threshold is reached, Pokémon Go would spawn Mewtwo at that location.
Players would then have 30 minutes to catch Mewtwo. Anyone who contributed enough items to the research stop but wasn't at the PokéStop when Mewtwo spawned would be able to trigger the battle the next time they visit that research station.
It's a nice bit of design fairness for a Pokémon Go fan's dream project. Perhaps Niantic is listening, especially considering how polished this concept art is.
More Pokémon Go guides, tips, tricks and updates
Check out Mic's Pokémon Go tips and tricks. Here are guides on how to get stardust, how to determine how long it will take you to reach level 40, the kind of Pokémon you get from 10-kilometer eggs, how to create new PokéStops, how to maximize your chances of catching Pokémon and how PokéStops distribute Pokémon eggs. Also check out how to catch Gen 2 baby Pokémon, our analysis of post-balance update Chansey and Rhydon and everything you need to know about finding the long-awaited Pokémon Ditto.