The Donald Trump and Tom Brady Friendship: A guide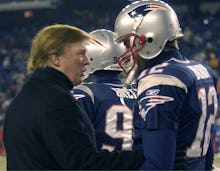 It started with a hat.
It had been sitting in Tom Brady's locker for weeks: tomato-red, the words "MAKE AMERICA GREAT AGAIN" emblazoned on the front in a white serif font. 
Donald Trump — then just a cotton-candy-haired gazillionaire who was running for the Republican nomination and not, you know, the president of the United States — had given the cap to New England Patriots owner Robert Kraft, and "it found its way" to Brady.
What did the hat mean? Was Brady a Trump supporter? 
"He's a good friend of mine," Brady said when he was finally asked about it. "I've known him for a long time. I support all my friends."
It "would be great" if Trump was elected president, Brady said soon after.
Trump responded with a tweet, calling it a "great honor from somebody that knows how to win!"
Brady has insisted since that he does not want to talk politics and has given empty word-salad answers to questions about his views on his racist, misogynistic golf buddy who has, over the course of their friendship, managed to ascend to the nation's highest office. 
But Brady's wishy-washy endorsement of Trump is but one chapter in the bromance between perhaps the greatest quarterback ever to play the game and the most unqualified person ever to assume the presidency. 
Most people don't need any more reasons to hate the Patriots. But if you do, here is a quick refresher on the Brady-Trump friendship:
2002: A friendship is born
In 2002, after Brady led the New England Patriots to a Super Bowl victory in his first year as the team's starting quarterback, Trump flew him to Indiana on a private jet to be a judge for the Miss USA beauty pageant. 
"If one thing stands out about Tom Brady, it's that loves those women." Trump told Sports Illustrated at the time. "And guess what? They love him, too."
It wasn't only "those women" who fell in love with Brady. Trump took a liking to him, too, and in a 2004 interview with Playboy, the reality star called Brady a "winner" with "great character" who would "make a great combination" with his daughter Ivanka. 
Trump and Brady: A "winning" friendship
Trump and Brady have been friends ever since. 
In September, Brady told a Boston radio station Trump "always gives me a call and different types of motivational speeches at different times" (which sounds hilarious) and that the two have "had a lot of time on the golf course together over the years."
Meanwhile, Trump has been a vocal fan of Brady, constantly referring to him as a "winner." (For the record: Brady technically is a winner; he has a record four Super Bowl rings and looks to add a fifth when he takes on the Falcons on Sunday.)
Trump was also a staunch defender of Brady during the absurd Deflategate scandal, loudly urging Brady to sue the NFL.
Trump, now president, brought Deflategate up again this week, calling NFL commissioner Roger Goodell a "dope" and talking about how he's not only friends with Brady, he's also pals with Patriots owner Robert Kraft and head coach Bill Belichick who, in November, famously wrote a letter to Trump — one packed with language strikingly similar to Trump's own — that expressed a hope that Trump would get the chance to "make America great again." 
In a New York Times story about the relationship between Trump and the Patriots, the president recounted standing with Kraft on the Patriots sideline during a game and being approached by Belichick.
"[He] comes over in his Patriots sweatshirt and the hoodie and the whole thing," Trump recounted. "He hugs me, and he kisses me, and he said: 'I love you. You're the greatest.'"
"He just feels warmly toward me, Belichick does," Trump said. "Isn't that the craziest thing?"