5 things to know about Luke Bryan, the 2017 Super Bowl national anthem singer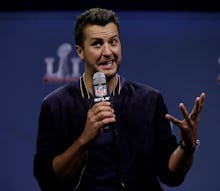 Lady Gaga is a hard act to follow, but country star Luke Bryan is taking on the challenge. This year, he will be singing the national anthem at the Super Bowl on Sunday, and Bryan told his fans the big news on Twitter:
Here are five things you may not know about Bryan. 
His music awards
If you're not already a Bryan or country music aficionado, you might not know about the singer's accolades. He is a two-time Academy of Country Music and Country Music Association Entertainer of the Year. He's even hosted the ACM Awards four times now. Bryan also earned a coveted spot on Billboard's list of top country artists in 2014 and 2016.
His extended tour
In 2016, Bryan played 58 cities on his Kill the Lights tour. But the tour is not over yet. In November, he announced that he would be adding 11 shows in 2017. The first show will take place in Huntington, West Virginia, on Feb. 16. Brett Eldredge will be his opening act for all 2017 shows. Rolling Stone reported by the time the tour closed for in October 2016, Bryan had performed for an estimated 1.6 million fans. According to CBS Sports, Bryan's single, "Kill the Lights," after which the tour was named, has been streamed more than 400 million times.
His humble origins
Despite his fame, Bryan does not come from money or connections. According to Biography.com, he grew up in rural Georgia not far from the Alabama border. There, his father made his living from peanuts and fertilizer. Bryan even worked on the farm as a child. Thanks to his parents' support, Bryan eventually moved to Nashville and has since sold more than seven million albums and 27 million tracks.
If you want a peek at Bryan's hometown, check out the personal video tour he did for Parade in 2014. For a little more context on what it was like for him to grow up there, check out Parade's companion article.
His benevolence
By 2014, Bryan had already achieved fame and fortune, which meant that when his late sister's husband died unexpectedly, he could take in his 13-year-old nephew. 
"As a family, we shake our heads and we just can't believe it," he told ABC News in 2015. "But, with me, you know, I just have to chalk it up to, 'Well, this is God's plan. I have to pray that people that have had similar situations can maybe look at my family and see me positively dealing with it. Maybe we'll be a positive inspiration for people that have had these things happen to 'em."
In addition to losing his sister, Bryan also lost his brother in a car accident when he was 19. 
His views on the confederate flag
In a 2015 article, Bryan told Billboard he grew up not thinking the confederate flag was a controversial symbol. Since then, his views have changed.
"Where I grew up, I never understood the confederate flag to be a negative thing," he said. "But if the Ku Klux Klan is going to walk around and turn the confederate flag into their deal ... It's becoming a symbol of racism to a majority of people. And we live in a country where we have to listen to people's opinions and work it out."