Ivanka Trump's jewelry line mysteriously vanishes from Neiman Marcus' website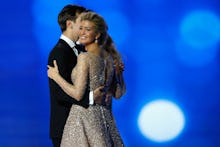 First Nordstrom, and now Neiman Marcus.
Mere hours after Nordstrom pulled Ivanka Trump's clothing line, fifteen products from Trump's jewelry line that were on Neiman Marcus' website as recently as Wednesday have mysteriously vanished, according to Business Insider.
As of Friday morning, a quick search for Ivanka Trump on the retailer's website brings in no results.
According to Racked's Chavie Lieber, a sales associate at the Garden State Plaza Neiman Marcus confirms that the jewelry has been pulled from its store, though it remains unconfirmed whether this is the case across all stores nationwide.
Neiman Marcus was one of over 67 brands and businesses targeted by Shannon Coulter's #GrabYourWallet hashtag campaign, which encourages consumers to stop shopping from retailers who carry Trump family products as well as corporate leaders "who enabled the political rise of the Trump family through fundraising and/or endorsements."
Unlike Nordstrom, which provided a quick explanation citing brand performance, Neiman Marcus has yet to publicly comment or acknowledge the removal of Trump's line.
Mic has reached out to Neiman Marcus for further comment.