San Antonio Spurs coach Gregg Popovich just schooled Trump on Black History Month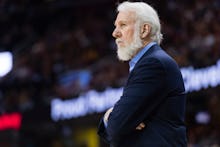 Gregg Popovich, head coach of the San Antonio Spurs — and a damn American treasure — weighed in on the "national sin" of systemic racism in pregame remarks Thursday about Black History Month – and once again criticized President Donald Trump.
In a characteristically thoughtful monologue, Popovich said that while some racial progress has been made, the systemic injustice facing black Americans often is ignored by white people.
"It always intrigues me when people come out with, 'I'm tired of talking about that,' or 'Do we have to talk about race again?'" Popovich said. "The answer is: You're damn right we do because it's always there, and it's systemic in the sense of when you talk about opportunity.
"If you were born white, you automatically have a monstrous advantage educationally, economically, culturally and within the society."
Popovich, considered by some to be one of the greatest coaches in NBA history, said the election of Trump indicated that racism is a "national problem."
"We have a president of the United States who spent four or five years disparaging and trying to illegitimize our president, and we know that was a big fake, but [he] still felt for some reason that it had to be done," Popovich said. "I can still remember, a paraphrase close to a quote, 'Investigators were sent to Hawaii and you cannot believe what they found.' Well, that was a lie.
"If it's being discussed and perpetrated at that level, then you have a national problem."
It wasn't the first time Popovich spoke out against Trump. 
After the election, Popovich said he was "sick to his stomach" about the results and that he fears "[America] is Rome."
"I'm a rich white guy, and I'm sick to my stomach thinking about it," Popovich said. "I can't imagine being a Muslim right now, or a woman, or an African-American, a Hispanic, a handicapped person. How disenfranchised they might feel."
After Trump's inauguration, Popovich expressed his support for the Women's March on Washington and characterized Trump's demeanor as "worrisome."
Popovich has also condemned Trump's Muslim ban and hilariously burned the administration's reliance upon "alternative facts."
While Popovich was thoughtfully reflecting on race, Trump paid lip service to Black History Month and attacked the press.