In one photo, the Swedish government baited Trump and his administration — without saying a word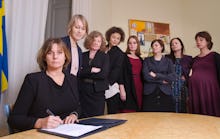 Swedish Deputy Prime Minister Isabella Lövin on Friday signed sweeping new climate change legislation while posing for a photograph which appeared unambiguously to be a dig at President Donald Trump's administration.
Lövin, also the country's climate minister, tweeted a photo of her signing the ambitious new climate change law — which promises zero net greenhouse gas emissions in Sweden by 2045 — appearing to replicate the now-viral photo of Trump, surrounded by men, signing an anti-abortion executive order. Instead, her photo exclusively featured women. 
Trump's global gag order on abortion signed Mon. 23 drew even more ire after a picture of him signing the executive order, restricting women's reproductive rights around the world, exclusively featured men. 
Lövin's poke at the White House's gender equality problem did not go unnoticed: 
The Swedish government has not shied from feminism, defining itself as the "first feminist government in the world."
"Women and men must have the same power to shape society and their own lives," the government website says. "This is a human right and a matter of democracy and justice."
As for Sweden's aggressive new climate legislation — along with the dramatic cut in greenhouse gas emissions overall — it includes a 70% reduction by 2030 of the transport sector's emissions. To meet the zero net emissions goal, Sweden would have to reduce its emissions by 85%. 
While Lövin's photograph was a quiet dig at the Trump administration, she also offered more explicit opprobrium.
"The U.S. is not there anymore to lead," she said Thursday of America's role in inhibiting climate change's damage, the Associate Press reported.
"Climate skeptics [are] really gaining power in the world again," she added. 
Swedish Prime Minister Stefan Löfven echoed Lövin Thursday in his criticism of Trump and his associates' approach to climate change, according to AP. "The position we hear from the new administration is worrying," Löfven said. 
Former President Barack Obama helped lead and committed to the unprecedented global Paris agreement, which was the first comprehensive global effort to reduce emissions. Trump, who has previously described climate change as a Chinese hoax, is reportedly planning to withdraw from the Paris agreement.
Lövin subsequently implored European countries to step up and, in America's place, lead the fight against climate change. 
She explained she was heartened by India and China, both of whom have said they will honor their commitments in the Paris agreement. 
Lövin added, according to the Guardian, "those that are still wanting to invest in fossil fuels will be ultimately the losers."