Lawsuit claims Apple purposefully tampered with FaceTime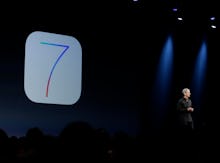 A class-action lawsuit filed Thursday in California claims that Apple forced iPhone users to upgrade to the iOS 7 operating system by "breaking" the FaceTime feature in iOS 6. According to the lawsuit, the move saved Apple money while forcing devices running on iOS 6 and earlier to upgrade. The group of customers is suing Apple for undisclosed damages under California's unfair competition law.
Apple Insider reported the information supporting the claim comes from Apple documents — internal emails and sworn testimony — released in a separate case: a patent infringement lawsuit by VirnetX Holding Corp., a Nevada-based patent licensor. In the case, Apple was ordered to pay more than $302 million in damages for using VirnetX's internet security technology without permission.
Apple launched FaceTime, a video-calling function that can be accessed over Wi-Fi or a cellular data plan, in 2010. For iPhones, FaceTime is compatible over Wi-Fi with an iPhone 4 or later model and over cellular data on an iPhone 4S or a later model.
At the time of the launch, Apple had two ways to connect two iPhones: peer-to-peer technology that transferred data over a direct connection or a relay method that used third-party servers to transport data. The latter was handled by a company called Akamai, which charges Apple a monthly charge for providing third-party servers.
Back in 2010, the relay method was lightly used and accounted for mere 5% to 10% of FaceTime traffic, Apple Insider reported. After a jury found peer-to-peer FaceTime calls to violate VirnetX patents, Apple relied solely on the relay method and started receiving "multimillion-dollar monthly charges" from Akamai. Apple eliminated the need for relaying data in iOS 7 but iPhone users kept using iOS 6, thereby continuing to cost Apple money.
The lawsuit claims Apple intentionally plotted to "break" FaceTime on iOS 6 (and earlier operating systems) by making a digital certificate expire prematurely on April 16, 2014. Apple supposedly blamed any resulting problems on a bug and encouraged users to upgrade to the latest software.
The suit, filed with the U.S. District Court in San Jose, California, cites an email disclosed from the VirnetX case, according to Engadget. Patrick Gates, an engineer at Apple, asked in an email what Apple had done "in April around iOS 6 to reduce relay utilization." Gokul Thirumalai, another engineer at Apple, replied to the query saying: "It was a big user of relay bandwidth. We broke iOS 6, and the only way to get FaceTime working again is to upgrade to iOS 7."
That said, MacRumors notes that when Apple allegedly broke FaceTime, only 11% of users were operating on iOS 6 and iOS 7 had 87% user adoption.
Mic has reached out to Apple for a comment and will update with any response. 
Read the lawsuit below: