Here's how much money the average American spends on Valentine's Day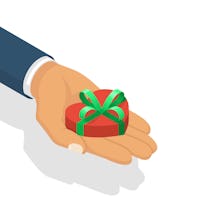 Since the middle of the 18th century, Valentine's Day has been a time for romantic partners to exchange small tokens of love.
But a day once devoted to exchanging handwritten letters and trifles has now become highly commercial — or what the president of the National Retail Federation calls "the first major consumer holiday" of the year.
In a recent survey, only 31.3% of female participants and 40.5% of male respondents said no gift at all is needed for Valentine's Day; so you probably feel pressure to get something.
The question is: How much should you spend?
After all, research published in the Journal of Experimental Social Psychology suggests gift givers incorrectly expect a "positive correlation" between big spending and big-time appreciation from the gift recipient — but those who get presents actually report no additional appreciation for more expensive gifts.  
Yet most Americans are spending big money and shelling out more cash than their partners expect on Valentine's Day. Here's what the numbers show.
Americans will spend billions in 2017 to celebrate Valentine's Day
Estimates from the National Retail Federation suggest that consumers who buy Valentine's Day presents will spend nearly $137 on average in 2017 for flowers, clothes, jewelry, candy and other gifts. This is down from a record high last year of about $147. 
The NRF's data on Valentine's spending comes from a survey conducted by Prosper Insights and Analytics, with responses from more than 7,500 consumers.
The jewelry industry looks to be a major beneficiary of all of this largesse, with NRF indicating spending on baubles could top $4.3 billion. The candy industry could get around $1.7 billion in consumer dollars, and the greeting card industry may see $1 billion. 
When factoring in dinner out, clothing purchases and all other gifts, total spending is expected to reach $18.2 billion in 2017. That's a lot of cash. 
Who is buying gifts on Valentine's Day?
How is it possible that billions are being spent on cards and candy?
Easy. A majority of Americans are taking part. The Prosper Insights and Analytics survey reports that 54% of consumers said they would buy Valentine's Day gifts in 2017.
Most of the gift buyers are purchasing for significant others, with 90% of all men and women in a relationship indicating they'd buy a gift for their spouse or partner. Consumers also planned to buy gifts for parents, kids and even pets. Furry family members have become big beneficiaries of Valentine's Day gift giving: to the tune of hundreds of millions of dollars.
Is spending all this money a good idea?
Celebrating special events can be important to relationships, but with money worries identified as a top cause of relationship stress, you may be better off spending a little less and investing in a more secure financial future for you and your loved ones.
Sign up for The Payoff — your weekly crash course on how to live your best financial life. Additionally, for all your burning money questions, check out Mic's credit, savings, career, investing and health care hubs for more information — that pays off.