'Madden 18' release date prediction and what to expect from the Frostbite engine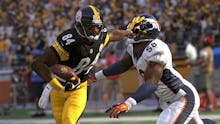 It's official: Madden 18 will be powered by the Frostbite engine. The announcement was made by EA Sports CEO Andrew Wilson during an earnings call on Tuesday.
An official release date for Madden 18 wasn't announced, but if things hold to form, it's not too difficult to guess when the next version will be released.
Madden 18: Release date prediction
Madden 17 was released on Aug. 23 and Madden 16 hit stores on Aug. 25, 2015. The game is routinely released on the last or next-to-last Tuesday in August. So we can expect to see this year's Madden release on Aug. 22 or Aug. 29.
Madden 18: What is Frostbite?
Frostbite is a gaming engine developed by DICE. It has powered a number of exciting titles released over the past three years.
Per the official website, "The entire world is alive in Frostbite games, immersing players into deep and dynamic worlds with always changing wind, water and weather."
Madden 18: How Frostbite might affect the series
Most recently, EA Sports used the engine to create FIFA 17. The enhanced visuals and animations were apparent–especially as it pertains to its new single-player campaign mode "The Journey."
You can catch a glimpse of The Journey's brilliance in the trailer below:
There's reason to expect a similar mode to The Journey in Madden 18. It was so well done, the folks in charge at EA Sports have to be willing to enjoy similar success within the Madden franchise. The visuals were particularly stunning, and the thought of something comparable in Madden 18 is very exciting.
That's the good news. The bad news is there's usually some issues whenever a game makes the jump from one engine to another. 
As beautiful as FIFA 17 was, there were a few hiccups in the gameplay that weren't present in previous games. For example, the ball physics and collision detection weren't as precise. Luckily, the graphics, animations and the far-reaching licensing power made these issues secondary.
Madden was previously using the IGNITE engine, which was good, but it still didn't remedy many of the legacy issues that have held the series back for years. While EA should be applauded for making a jump to an updated gaming engine, fans should be cautiously optimistic about Madden 18.
This is similar to the first year of a rebuilding sports franchise. There will be growing pains as the company's developers try to meld the product's identity with the new engine. As a result, we might see some seemingly egregious glitches early on and some other eyebrow-raising moments during gameplay.
One might also worry about other features of the game being omitted due to the lack of development time allotted to handle such a large undertaking. Because the game releases on a 12-month cycle, there often isn't enough time to work out all of the kinks in every version even when developers aren't also dealing with the transition to a new engine.
That dynamic could have an even more drastic effect as Madden takes on Frostbite, but we're still excited to see how Madden 18 turns out.
More sports gaming news and updates
Are you a sports gamer? Check out more content from Mic, including news on EA Sports' 2017 plans for titles like NBA Live 18 and EA Sports UFC 3. There's also details on R.B.I Baseball 17, and the latest patch notes on WWE 2K17's 1.06 update.