Super Bowl Halftime Show Livestream 2017: How to watch Lady Gaga's performance online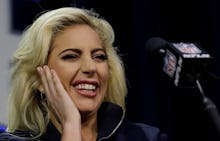 During her press conference on Thursday, Lady Gaga promised that her Super Bowl 51 halftime performance would be a "tremendously athletic show" and shot down the likelihood of having a "wardrobe malfunction." Even though we don't know the full details of her performance, we're sure she'll rock the stage. 
What if you have a deep love for Gaga, but no TV? Fear not: You can still go online to watch the pop star perform — and, you know, watch the Atlanta Falcons and New England Patriots play football. Here are some options.
Fox Sports Go or NFL Apps 
If you have a Roku, Android TV, Windows device, Xbox One, Amazon Fire TV, Apple TV, Android TV or a tablet, you can download the Fox Sports Go app or the NFL app to watch the show. The good news is that those apps will not require a cable login, so you can stream for free. 
Mobile devices and laptops
You can download the Fox Sports Go or NFL apps for iOS or Android, but you'll need a Wi-Fi connection for some carriers. If you are a Verizon customer and want to use your cellular data, you can stream it for free using NFL Mobile. 
If you have a laptop, all you have to do is visit the Fox Sports Go website. 
Streaming TV
PlayStation Vue, Sony's livestreaming service, offers a free trial that can be utilized by anyone looking to watch Lady Gaga's performance. Sling TV subscribers must have a "Blue" package — a service that's only available in select markets, including New York, Chicago, Los Angeles, Houston and San Francisco. 
AT&T's DirecTV Now Service will also stream the game in a handful of cities. See the full list of cities here.