Lady Gaga ignites the 2017 Super Bowl halftime show in Versace-designed sparkly leotard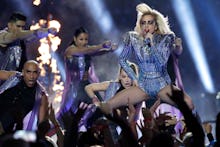 Well, that's one way to grab America's attention.
For her performance during the 2017 Super Bowl halftime show, Lady Gaga showed up in a sequined Versace-designed leotard with plenty of shoulder-pad action. The drones behind her glittered like tiny stars before turning into a flag. 
She then flew into the arena, like Tinkerbell. 
Fans were immediately thrilled with Gaga's costume choice and considered it a throwback to her more outlandish looks from early on in her career. 
After opening with "God Bless America," Gaga burst into "Edge of Glory" and then "Poker Face," her hit song from 2008. 
Her look was very Bowie-esque, featuring exaggerated eyeshadow and heels. 
Gaga even included "Born This Way" — a song known for its pro-LGBTQIA message — into her set, before continuing with "Telephone," a number she did with Beyoncé back in 2009. She finished up with "Just Dance," "Million Reasons" (from her latest album, Joanne) and "Bad Romance."
The set was really a celebration of Gaga's biggest hits so far, with high-action sparkles thrown in for good measure. 
For the latter part of her show, Gaga changed into more of a football-themed outfit with a shoulder-padded crop top. 
Ahead of the halftime performance, Gaga's look was much more subdued in an all-black Vera Wang ensemble during the pre-show. 
But with a sartorial legacy of meat dresses and statement-making appearances, plenty of viewers were underwhelmed by the show and the outfit, noting it wasn't nearly as fantastic — or political — as it should have been. 
Overall, Gaga managed to veer away from any political messages with her outfit, which stands in stark contrast to Beyoncé's performance in 2016, when she showed up with a posse of background dancers dressed like Black Panthers. 
According to Gaga herself, the performance was more for her "monster" fans than anyone else. 
You can watch the entire show (for now) below: