'Fire Emblem Heroes' Merge Allies: How to combine units to make them more powerful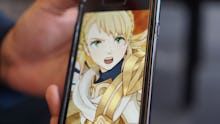 If you're playing Fire Emblem Heroes, you've probably already experienced the rush of summoning new heroes by spending orbs. Sometimes, you get an amazing five-star character like Lucina, but other times, you get one of those green-haired magician brats. Did you know you can actually summon the same character twice? That's right, you might get stuck with two identical green-haired brats. 
Luckily, Fire Emblem Heroes has a tool that'll let you merge any duplicate allies — but there are some important caveats you need to consider first.
Fire Emblem Heroes: How to Merge Allies
If you find yourself with two copies of the same character, you can merge them into one character that's stronger than either of the two individuals. To do so, tap "Allies," then "Advanced Growth" and then "Merge Allies."
You'll want to stick the weaker of the two characters in the "lose" slot, beefing up the stronger character in the process. Doing so, according to the in-game help menu, will raise that character's stats and give you some skill points — or SP — that you can use to purchase new abilities.
However, if the character you're sacrificing has a lower star rating than the character you're upgrading, you'll only get SP. Their stats will not increase. Additionally, if you upgrade a character's star rating after merging them with another character, any stat bonuses they gained from the merger will vanish.
Still, merging allies is a great way to clean up that character roster a bit.
More Fire Emblem Heroes tips, tricks and guides
If you're still struggling to figure out Fire Emblem Heroes we're here to help. Check out our handy guide on how to get started if you're new to the series, along with explainers on using Hero Feathers, changing nicknames in the game, boosting your characters with Unlock Potential, upgrading character star ratings and adding friends in Fire Emblem Heroes.