'Jane the Virgin' actor Jaime Camil talks about on-screen and real-life fatherhood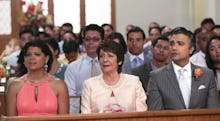 There's been a lot of Jane the Virgin news lately. Season three is in full swing and the show was recently renewed for season four. What better time to chat with actor Jaime Camil, who plays Jane's father, Rogelio? 
The reimagined telenovela has always focused on parenthood. After all, the titular character's central conflict for much of the show has been her accidental (and improbable) pregnancy. Now we see Jane grappling with the challenges of early stage parenting. How will she get enough sleep? Should she take her cranky infant to church? When will she and Michael jump in the sack — er, regain intimacy — again? 
There's also the complicated and evolving relationships that Jane has with her own parents, Xo and Rogelio. Both have modeled very different styles of parenting for Jane, who decides she wants to do things her own way. That is, the most by-the-book way possible.
But since the midseason premiere, we've seen parenthood explored from a new angle. We've learned Rogelio is eager to have a second child. He didn't have a chance to raise Jane and wants to be involved in his second child's life from birth. That's why he swiftly makes plans with Darcy, a relationship expert and bona fide independent woman. They're going to have a baby, pronto.
Well, maybe. As of "Chapter Fifty-Three," which aired Jan. 30, it appears the baby-making plans are off, at least for now.
Rogelio's dad journey continues
So what's going to happen with Rogelio's #DadGoals in season four? Are Darcy and he really going to abandon their test tube baby efforts? What about making a baby the natural way? Or will Rogelio try for a baby with someone else?  
Camil said he has zero details about the season four story. The cast doesn't know anything about the plot until they receive the script.
"We found out who Sin Rostro was at the table read," Camil said. "We honestly don't know what's going to happen in season four."
Camil can only make educated guesses about Rogelio's trajectory as a dad. He hopes he and Jane will continue getting closer because he has a soft spot for their relationship: "It's always going up."
Maybe Rogelio's relationship with Jane and his new grandson will even fill the hole he imagines is there.
"I think he will satisfy his craving of having a kid [and raising that child from birth] with his grandson [Jane's son]," Camil said.
Real-life #DadGoals
Rogelio craves what Camil seems to have in real life: 24/7 dedicated fatherhood. When he's not acting, chances are good that Camil is spending time with his kids. He wants to embrace his own version of modern fatherhood, not old-fashioned notions of do-nothing dads.
"I come from a traditional Latino family," Camil said. "My father didn't quite know what diapers were or how they function. It was like he would think, 'My child smells like poop.' I give the child to my wife and five minutes later, the baby is clean, like magic."
Camil believes in being more hands-on with his children.
"I am the master of changing explosive poops," he said, adding that his wife passes the kids to him when things get extra messy. "My wife and I are like a team."
While Camil and his wife, Heidi Balvanera, have at times hired a nanny, they have never hired full-time nanny services. 
"We hired help for certain hours of the day when my daughter was almost two years old and my wife was pregnant with our son," he said. 
He quips that he only hired a nanny because his wife was threatening his life. "Plus, it's really cool to be able to take a shower without having to jump out because something happened [with a kid]," he said.
Still, even with the chaos, Camil adores his children.
"I'm very devoted," he said. "I love them."
That's not unlike Rogelio, who Camil describes as "honest as hell" and "super sincere."
"When it comes to his feelings, he doesn't have a problem saying how things are," he said.  
Ditto for Camil, the master of cleaning up explosive poops.
New episodes of Jane the Virgin air on the CW at 9 p.m. Eastern on Monday.
Mic has ongoing Jane the Virgin coverage. Please follow our main Jane the Virgin hub here.