Eminem blasts Anne Coulter and Donald Trump with brutal lyrics on Big Sean's "No Favors"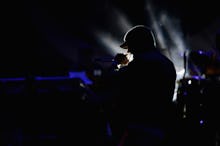 When Eminem is angry, he never goes PG-13. If he's going for gore, we're going to get every grizzly detail, or nothing at all. The Detroit MC offered up his first lyrics of 2017 on Friday, appearing on Big Sean's "No Favors" off his hotly anticipated album I Decided, veering into the political as he did on his last offering, "Campaign Speech."
In his run-and-gun guest verse, he weighs in on President Donald Trump, calling him "a bitch" and threatening to "make his whole brand go under." However, Eminem saves his most brutal bars for one of the people who helped put him in power: conservative pundit Ann Coulter.
He reserves 10 whole bars for her, promising to "make an example of her" as revenge for Sandra Bland and Philando Castille, two black people killed in police custody in the past two years. The lyrics about Coulter in full:
And fuck Ann Coulter with a Klan poster
Coulter actively followed the Bland case as its investigation developed from a prison suicide to a murder. Back in July 2015, she tweeted several items referring to Bland as a "druggie/scofflaw."
The lines are peak Slim Shady, channeling his frustration into his prototypical blind, navel-gazing brand of aggression. But according to Big Sean, it was the only kind of verse he could have had on the album. 
"Eminem was the only person I heard that could be on that song," he said in an interview with Zane Lowe. "It reminded me of why I fell in love with Eminem's work."
Listen to the full song via Spotify below: