Mariah Carey "I Don't" feat. YG — and 5 more of her best hip-hop collaborations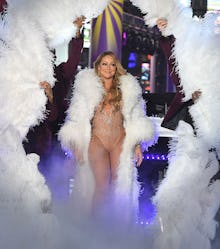 Veteran songstress Mariah Carey is back with a new single: "I Don't," a breakup anthem featuring rapper YG — the "Bompton" emcee known for his 2016 protest song "Fuck Donald Trump." The duo dropped the visuals for the song today.
Carey's latest is a trap slow jam about breaking up and moving on after splitting from fiancé James Packer last year. The song also samples the classic 1999 R&B song "Where I Wanna Be" by singer Donnell Jones. 
"No matter how much it hurt/ You had to make it all about you/ Tell me why you go and do me like you do?," she belts on the record. 
Some may not have seen Mimi's collaboration with YG coming — but it reminded us that the songstress has always had a sweet spot for hip-hop collaborations throughout her nearly 30-year career. 
Carey, who launched to fame singing pop ballads, eventually switched to a more R&B-centric sound.
"The record companies didn't understand my collabs with hip-hop artists and producers, such as 'Fantasy' with ODB or 'Heartbreaker' with Jay Z," she told Variety in 2015. "Now anyone would kill to have a record with Jay Z. I got a lot of flak for that."
Here is a look at five of her best team-ups with rappers in the past to celebrate her return. 
"Fantasy," feat. ODB
"Is New York in the house?!" ODB belted in 1995, opening up Mariah's "Fantasy" remix — and pop music hasn't been the same since. 
"The 'Fantasy' remix set the template for what pop has become," former MTV News correspondent John Norris told ET in 2015. "It's almost a given now that pop songs will have a hip-hop element to them. Those two elements are almost a requirement to get on pop radio today."
"Heartbreaker," feat. Jay Z 
Before Jay Z was a husband and father, he assisted Mariah Carey with lyrics on her 1999 song "Heartbreaker," which climbed to the top of the Billboard Hot 100. DJ Clue, who produced the record, told Billboard he was the one who made it happen.
"I told her, 'I'm going to call Jay Z and get him to put a verse on it,'" DJ Clue said. "I went and sat with Jay and played him the record. He liked the idea. It was a perfect marriage at the time."
"Heartbreaker (Remix)," feat. Da Brat & Missy Elliott
Soon after the release of the original, Mariah Carey had another version up her sleeve. 
"I'm so excited about the remix," she told MTV News in 1999 upon putting out the record. "It's also gonna go on the album, and it features Missy Elliott and Da Brat, and it's kinda like a girl-power answer record, and it's to the loop of Snoop [Dogg]'s 'Ain't No Fun.' They're not ready for that one!."
"Honey (Remix)," feat. Mase and The Lox
Diddy — who still went by Puff Daddy at the time — was one of the producers of the original "Honey," and he brought his Bad Boy recording artists Mase and The Lox on for the remix in 1997.
"When I heard it I was just really excited," Styles P of The Lox told Billboard. "For a rapper to be able to get on a song with Mariah Carey, for it to be the kind of beat you could actually enjoy rapping over, that makes for a great session."
"I Know What You Want," with Busta Rhymes feat. Flipmode Squad
Rapper Busta Rhymes and Mariah Carey made the steamy duet "I Know What You Want" a hit with the help of Busta's rap crew Flipmode Squad. The song climbed to the No. 3 spot on the Billboard Hot 100 in 2003.
"For years to come, that record is gonna keep moving up," Flipmode Squad's Rampage told Billboard. "I'd been on hit records, but when it comes to a record like that, it's just a little bit higher than the rest of them."