George and Amal Clooney are having twins! Here's how much twin babies and other multiples cost.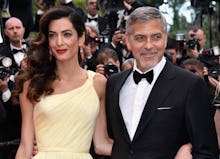 Yes, it's true: Just like Beyoncé, Amal Clooney is reportedly pregnant with twins by actor and husband George Clooney.
Of course, when you have two babies at the same time, this also means you have to raise and pay for two babies.
Since the Clooneys are loaded, and Beyoncé had an estimated net worth of $265 million in 2016, the costs of childcare probably won't be a problem for these celebrities.
But they won't be the only couples welcoming twins this year.
The Centers for Disease Control and Prevention reported 135,336 twin births in the United States in 2014, as well as 4,233 triplet births, 246 quadruplet births and 47 births with five or more babies. If your family is blessed with multiples, you better prepare for some extra expenses.
How much more do multiples cost?
Having multiple babies at once can start to cost you money right away.
Just 64% of private sector workers have paid sick leave, according to Bureau of Labor Statistics, and most who have sick leave have just a few days.
According to Family Education, women who are carrying multiple babies are more likely to require bed rest and are more likely to have to stay on bed rest for more time. If you're forced to take off months during pregnancy, you may have to take unpaid leave and miss out on income. 
Once you are ready to have the babies, you can expect higher costs for labor and delivery. 
The American Journal of Obstetrics and Gynecology released a study on costs associated with multiple births. The research revealed parents of twins spent five times as much on medical costs when delivering twins, compared with singleton pregnancies.   
While health care costs of delivering one baby averaged $21,458, the average costs rose to $104,831 when twins were delivered.
If more than two babies were born, average costs went to $407,199. 
The higher average costs account for both a greater likelihood of delivery via cesarean section and an increased risk of twin or multiple babies ending up in the neonatal intensive care unit. 
Twins mean higher costs during childhood
Extra expenses for twins continue throughout childhood, as parents pay to raise two babies when they only expected one.
Parents of twins will need two of most children's items, such as strollers, high-chairs, cribs, beds and bikes.
Daycare might be necessary, and employing a nanny full-time can mean paying payroll taxes and providing other employee benefits.  
Average costs of daycare can differ dramatically from state to state.
In California, for example, the average cost of infant care is $11,817.
Some daycare centers provide discounts for multiples, but these discounts are usually around 10% to 15% — so the costs could still be around $20,000 annually if you have two infants needing care.
The good news?
There are ways to save on costs — including keeping the purchases of unnecessary baby gear to a minimum.
You just need to be sure to spend carefully so your surprise extra baby can be worked comfortably into your family budget.
For more advice, check out Mic's guide to planning to pay for a baby (or two).
Sign up for The Payoff — your weekly crash course on how to live your best financial life. Additionally, for all your burning money questions, check out Mic's credit, savings, career, investing and health care hubs for more information — that pays off.