Nicki Minaj calls out designer Giuseppe Zanotti for "racism and disrespect" on Twitter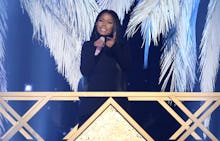 If there's one code that Nicki Minaj lives by, it's a code of respect. 
On Friday, the rap superstar sent a series of tweets calling out fashion designer Giuseppe Zanotti for having several pairs of shoes named after her on his website. Minaj said she was surprised to see her name attached to a Zanotti shoes given his team did not take her calls to collaborate with her on a footwear line. 
"Giuseppe Zanotti seems to think it's OK to name his sneakers after me but his PR says they won't take our call," she tweeted. "Just go on Google, you'll see all the different pairs he's named after me. Lil black girl can inspire you but ain't worth a collection, my nig?" 
Minaj asked her "Barbz," the name of her fanbase, to get #GiuseppeWhatsGood trending on social media, which it did quickly. The hashtag is a reference to her famous question, "Miley, what's good?" which she posed to Miley Cyrus while accepting an award at the 2015 MTV Video Music Awards. 
As a black woman in the music industry, Minaj has called out the many ways people disrespect her on the regular. While some people misinterpret her lyrics or tamper with her wax figure, Minaj has always had her on eye on making sure the industry gives her her due respect. Minaj has shut down sexism time and time again and demanded that black women get their due respect. 
Minaj even called out Taylor Swift for trying to make her call-out of the inherent racism and sexism of the Video Music Awards all about Swift. On Friday, Minaj's Twitter rant was also a call for success. 
"Don't care about the money," the rapper wrote. "It's just the disrespect. You're not taking my call? Give some money to charity in my name or something." 
Fans sleuthed from there and found out that 23 pairs of shoes on Zanotti's website in total were named after Minaj. As of press time, there are no shoes called "Nicki" on Zanotti's site. 
#GiuseppeWhatsGood also began to trend worldwide, per Twitter screenshots. 
After suggesting that she and Zanotti book a Soulja Boy and Chris Brown style fight, Minaj retweeted someone who found that all mentions of her name had been scrubbed from Zanotti's site. 
Minaj then addressed her female followers to explain the importance of women speaking up to get their due credit. 
Minaj ended the series of tweets by calling on Zanotti to donate proceeds of the shoes to St. Jude's Children's Hospital. She included that she would match their donation, up to $500,000. 
For years, Minaj has shown that she's a badass feminist and has shut down sexism within the music industry and beyond. She spoke about her quest for respect early in her career, leading to a viral clip about "bossing up" that has been watched hundreds of thousands of times. 
In one of the video's most memorable moments, Minaj reminds women to demand better for themselves than what's offered. She recalls showing up to photo shoots and being offered, metaphorically, pickle juice.
"If I had accepted the pickle juice," she says, "I'd be drinking pickle juice right now." 
Today, Minaj did not accept the pickle juice. 
Mic reached out to Zanotti for comment but has not yet heard back.