Is the Super Bowl rigged? Here's what we know.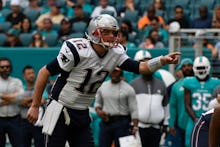 Will the NFL allow the Patriots to win the Super Bowl?
That's the question a Boston columnist posed in a piece that must be read to be believed.
"The absolute last thing NFL commissioner and artful dodger Roger Goodell wants to do is hand the Vince Lombardi Trophy to Robert Kraft and the MVP trophy to Tom Brady," WEEI's John Tomase wrote in January. "In a different time, I'd scoff at fears of the game not being played on a level field. But now? I'm sad to say it doesn't sound so crazy at all."
Oh, it does sound crazy — but Tomase is hardly alone in questioning the integrity of the big game. Every year, while the winning team celebrates with the Lombardi Trophy, many others on Twitter and elsewhere float conspiracy theories that the game had been fixed. 
Some Super Bowl Truthers believe that the Patriots and Falcons are not the rightful competitors in Sunday's game.
Others feel that the NFL did not rig the season — but should have.
Then there are others still who treat the serious issue of Super Bowl rigging as an opportunity to make jokes about last November's election.
The NFL has had many instances of cheating — including two notable cases involving one of the teams in this year's Super Bowl.
In 2007, the New England Patriots were found to have illegally videotaped the New York Jets defensive signals in what became known as Spygate. Then, in 2015, the Pats were accused of knowingly underinflating footballs to gain a competitive edge in the absurd, never-ending Deflategate scandal. 
That case, which resulted in a four game suspension for Tom Brady to start the 2016 season, was catnip to the conspiracy-minded. NFL commissioner Roger Goodell manipulated the quarterback's testimony and generally botched the investigation into the team's actions, further eroding public trust in the league.
So while there's maybe some sour grapes behind these Super Bowl conspiracy theories, it's also not difficult to understand why some would view the league and its teams skeptically. 
The Super Bowl gets underway Sunday evening. The Patriots are favored to win in a high-scoring shoot-out. There is no hard evidence to indicate it will be rigged.