How food commercials are paving the way for LGBTQ representation in advertising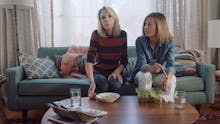 On Feb. 2, 2014, Super Bowl viewers witnessed something they'd never seen during the production before: a same-sex couple as parents in a commercial. More specifically, a food commercial. Coca-Cola, whose primary goal is to sell sugary soda products, aired its original one-minute "It's Beautiful" spot during the 48th Super Bowl, in light of the pending anti-LGBTQ Sochi Olympics. 
This ode to America's diversity, which shows quick vignettes of Americans of all backgrounds to a soundtrack of "America the Beautiful" sung in multiple languages, includes two dads dancing and clumsily roller skating with their young daughter. 
"Including a gay family in this ad is not only a step forward for the advertising industry, but a reflection of the growing majority of Americans from all walks of life who proudly support their LGBT friends, family and neighbors as integral parts of 'America the Beautiful,'" GLAAD president and CEO Sarah Kate Ellis responded at the time.
Of course, that notorious ad re-aired on Feb. 5, 2017, making another statement about America's current political climate. This time, viewers focused more heavily on the immigration and ethnic diversity aspects of the commercial than the twirling, apolitical joy of the family's few seconds of stardom at the end of the spot. How far we've come! Never mind that Pepsi sponsored the halftime show, it was Coca-Cola that people were buzzing about after the game, with many promising to boycott the soda because of the company's liberal values. 
It all started with a dining room table.
Food brings people together, as Ina Garten likes to say. So it makes sense that the first-ever television commercial featuring a same-sex couple centered around a dining room table. Ikea's groundbreaking "dining room table" commercial told the 30-second story of Steve and his partner, together for three years, looking for a good table to share meals on and demonstrate their commitment to each other with. Cheesy, yes, but considering that Don't Ask Don't Tell had just been signed in October 1993, with the Defense of Marriage Act looming in September 1996, this ad, which aired in 1994, was in many ways ahead of its time. Despite backlash from anti-gay groups, Ikea did not pull the commercial from TV. 
"The Ikea ad depicts an aspect of gay life that people never see: our daily lives," Ellen Carton, executive director of the New York chapter of the Gay and Lesbian Alliance Against Defamation told the Los Angeles Times in April 1994. "Instead of showing gays and lesbians marching at gay rights rallies or suffering from AIDS, the Ikea ad humanizes us. The importance of that cannot be overstated."
Today, the importance still stands. 
Skip ahead two decades later: Gay people and families with same-sex parents are still few and far between in Super Bowl commercials and daily advertising, but food and beverage companies have made notable progress with LGBTQ inclusivity since 2014's landmark Coca Cola commercial. 
Food brings people together
Honey Maid casually gave a family with same-sex parents some screen time in its 2014 "This Is Wholesome" commercial, a Canadian Cheerios commercial with two dads was a hit on the internet and June 2015's "Love This Life" commercial for Chobani 100 was basically a trailer for your next favorite indie lesbian love flick.
Beverage brands, too, have sought to appeal to an LGBTQ and allied audience with their wide-reaching inclusive commercials; Absolut's trans-inclusive commercial and Bud Light's June 2016 same-sex wedding commercial carved out advertising space to portray more diverse people in traditional advertising. 
Real, real life
Portraying diversity isn't just a way for brands to show they're for a certain cause or championing a certain group, but indeed a simple, direct way to connect with consumers. 
A few weeks ago, on a random Tuesday night, a chicken soup/stew-type thing I made up was simmering in our slow cooker and lettuce leaves were drying on the counter to make salad while I caught up on Blackish on Hulu. As I was about to head back into the kitchen to chop lettuce during the commercial break, I heard the voice of a woman call out over the TV, "Babe, I'm making soup, do you want any?" "No thanks, I have a salad," another female voice called out.
Wait, what? Could it be? Actual queer women in a Campbell's soup commercial? Yes, this was real. I immediately texted my girlfriend to let her know that the "best thing just happened" and what an amazing coincidence that we, too, are eating soup and salad (we eat this many nights) and we, ourselves, are on TV!
The women in the commercial look nothing like us, nor sound like us, and we always use placemats when eating on our wooden coffee table. But for someone who grew up in the '90s, when seeing a same-sex couple, not to mention a gay person, in a commercial was pretty much unheard of (most people in America didn't even know what Ikea was), this 25-second advertisement represents a major shift in our consumer culture, with brands opting to prioritize inclusivity in their advertising. 
Mmm, noodle soup 
The "Food Envy" commercial starring two women wasn't Campbell's first move into the LGBTQ advertising market. As part of Campbell's Real Real Life campaign, the food brand launched a 2015 commercial featuring two dads, wedding rings glimmering for the camera, spooning Star Wars noodle soup into their son's mouth, both stating the movie's famous line: "I am your father." 
It's adorable, it's sweet, it makes you want to eat soup — everything a soup commercial should do! 
Backlash against the commercial, which went against the cultural norm of selling products via straight people since pretty much the inception of television, ensued, but commenters on Campbell's Facebook was on it with sick soup burns. And this didn't stop the brand from airing the female-centric "Food Envy" commercial over a year after their first-ever LGBTQ spot. 
Activism through capitalism
"'Food Envy' highlights the relatable and caring moment that all couples share – a meal and a special moment together," Yin Woon Rani, vice president of marketing activation at Campbell Soup Company said in an email. "Our 'Real, Real Life' campaign continues to hold a mirror up to everyday American life and families, highlighting a wonderful mosaic of different cultures, different races, different generations, different religions and different life choices."
While two white women may not represent as large a spectrum of diversity as possible, Rani said, "We have a very open and diverse casting approach across a wide range of families, so each cast was selected to best support the story of the commercial in the most inclusive way possible. ... The couple was selected to portray a real, authentic and intimate relationship between families as a reinforcement that they go so well together, just like these classic food pairings." Because just like soup and salad go perfectly together, so can two women. 
Rani said that the brand is "seeing positive responses" to its real families, real life and real food ads. "It's important for all of our commercials to capture the essence of real, American households," she said, noting that Campbell has a "significant commitment to LGBTQ inclusion" and also boasts a perfect score, for the eighth time, on the Human Rights Campaign Foundation's annual Corporate Equality Index. "Our focus on equality is also demonstrated through our advertising, where we wanted to ensure that our LGBTQ-inclusive commercials featured relatable moments that capture today's modern American family," Rani said. 
Beyond pantry products, fast food has yet to catch on
While those paying attention can still count the mainstream LGBTQ commercials on their fingers — Tylenol's #HowWeFamily and Nordstrom's popular ads may come to mind — food companies are still paving the way for more LGBTQ representation in advertising. 
In March 2016, McDonald's aired a commercial in Taiwan of a young man coming out to his father in a McCafe. 
This was a stark contrast to a controversial 2010 McDonald's commercial, aired in France, in which a closeted teen, looking at a photo of his all-male classmates is then told by his father that he could be a "ladies man." McDonald's concluding message, "venez comme vous êtes" or "come as you are" may have spoken to some teens and parents, but the American company, not being an outspoken ally of LGBTQ people in its home country, still received criticism. 
"It is an example that markets, cultures are very different around the world ... I've never shied away from the fact that I'm a Christian. I have my own personal beliefs and I don't impose those on anybody else," Don Thompson, McDonald's Operations Chief told the Chicago Tribune in 2010. "[We talk] about things that may have an implication in one part of the world and may be the cultural norm in another part of the world. And those are things that, yes, we're going to learn from. But, you're right, that commercial won't show in the United States."
To date, McDonald's has not shown an LGBTQ-inclusive TV ad in the U.S., nor has any major American fast food brand. But 2017 is young, and as major brands are working in activism as an advertising tactic, anything is possible. 
If only that Totino's commercial were real... 
Feb. 7, 2017, 1:19 p.m.: This story has been updated.
Correction: Feb. 7, 2017