With a stroke of Trump's pen, the fight for Standing Rock started all over again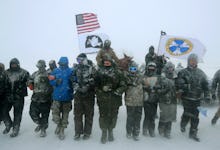 From afar, the future of the Standing Rock struggle looks bleak.
President Donald Trump is pushing the Dakota Access pipeline project through. And some tribal leaders, who are asking protesters to leave Standing Rock, are turning their attention to demanding further environmental reviews.
But the fight on the ground isn't over. The water protecters are there, and leaders in the Lakota Sioux community are still asking people to come help with obstructing construction and join the peaceful struggle against the pipeline. 
"People can come — we're going to need it," Chase Ironeyes, a leading Lakota activist and member of the Lakota People's Law Project, said in a phone interview Friday. "They fully plan to drill, and we'll need bodies."
The mixed messaging about whether people should arrive in droves to Standing Rock comes from the conflicting approach of the Standing Rock organizers and the local tribal government. David Archambault II, the tribal chairman of the Standing Rock Indian Reservation, has repeatedly called for evacuation of protest sites. 
Yet according to Ironeyes, many indigenous groups with potential claims to the Standing Rock treaty lands and the water protecters on site intend to stick it out with civil disobedience and peaceful protest.
There are still hundreds of people holding the front line at the Oceti Sakowin and Sacred Stone camps. Just this week, a contingent of veterans like the group that came to the site's rescue in December raised another round of at least $130,000 to send another group to the site.
But the vast majority of that land is on a plain that could be totally flooded by the end of the month. So on Thursday, water protecters marched up a hill above the Oceti Sakowin encampment to establish a new site called Last Child's Camp.
Within an hour of establishing a new sacred fire to consecrate the site, law enforcement in military vehicles raided the camp. Over 70 were arrested, including Ironeyes and water protecter Vanessa Castle, who were both charged with inciting a riot, a felony that could put them behind bars for 5 years. 
Still, the water protecters will keep trying to establish a safer encampment.
"We're going to continue getting people to higher ground," Ironeyes said.
Ironeyes stressed that anyone who comes should be prepared to be self-sufficient. Temperatures on the North Dakota plains during this time of year are brutally cold — the Lakota people wouldn't typically inhabit the area during the winter if not for the resistance movement. The water protecters on site can help provide warm shelter and food for visiting protesters.
Ironeyes said his organization is still helping to make housing arrangements for would-be protesters who want to travel to North Dakota. Otherwise, there are ways to support the demonstrators from home, including donating money to alleviate legal funds and supplies to keep keep people warm. 
After all, winter is here, and — like Trump — it's not going away any time soon.