'Overwatch' Terry Crews Doomfist: Watch Crews' hilarious mock audition for the character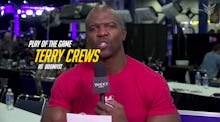 Excitement in the Overwatch fandom has been building for months at the prospect of a new Terry Crews-voiced Overwatch hero named Doomfist. A new video from Yahoo Esports comes pretty damn close to making that dream a reality.
Overwatch Doomfist: Terry Crews performs a mock audition
Unsurprisingly, Crews' line reads are energetic and impossibly charismatic.
In the video, the Brooklyn Nine-Nine actor reads some quotes which could fit the Doomfist persona — a character who has a presence throughout the Overwatch universe but who has yet to actually appear in-game.
Doomfist's glove, for example, sits inside a glass case in the Overwatch cinematic trailer, and it makes a second appearance in the payload on Numbani.
Where did those Overwatch Doomfist rumors come from, anyway?
The fantasy of an Overwatch character voiced by Crews were first started on Reddit by a fan, but Crews himself chimed in with his support of the idea shortly thereafter.
In the weeks following that initial Reddit post, Crews has posted pictures on social media of his visits to Blizzard's campus, stoking the Doomfist hype even more. Most recently, Dwayne "the Rock" Johnson himself tweeted support for the fan casting.
So, will an Overwatch character voiced by Crews become a reality? Only time will tell, but his new mock audition is sure to just fuel the fan excitement even more.
More Overwatch news and updates
For more on Overwatch, check out the rest of what Mic has to offer. Here is a list of our predictions for what seasonal events might appear in 2017, a look at a very funny, but naughty meme on the Overwatch subreddit, an interview with the creator of an awesome new Overwatch zine, the full patch notes for Overwatch version 2.03, a full explanation of the different types of health in Overwatch, our definitive ranking of every Overwatch hero, a roundup of awesome gender-bent Overwatch cosplay and a giant Overwatch FAQ for beginners.