Trump administration already has more than one bizarre response to federal judge's Muslim ban block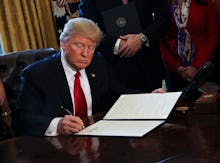 What do the sisters on Charmed, the branches of U.S. governments and the Trump administration's statements on the federal judge's block of Trump's Muslim ban have in common? They all come in threes. 
In less than 24 hours, the Trump administration has crafted three statements in response to the Seattle U.S. District Court judge's temporary block against President Donald Trump's executive order blocking refugees and travelers from seven Muslim-majority countries from entering the United States.
According to the Guardian, White House press secretary Sean Spicer released an initial statement saying the White House will find a way to file an emergency stay. The statement reads: 
"At the earliest possible time, the Department of Justice intends to file an emergency stay of this outrageous order and defend the executive order of the president, which we believe is lawful and appropriate. The president's order is intended to protect the homeland and he has the constitutional authority and responsibility to protect the American people." 
According to the Guardian, the White House sent a second "updated" statement identical to the first except the White House had removed the word "outrageous" to describe Trump's order. 
Trump then responded to the ban on social media. In a series of statements on Twitter, Trump defended the ban as a matter of security. He also blasted the "so-called" judge, who was appointed by George W. Bush and approved by a 99-0 vote in the Senate, and said he will find a way to overturn the block. 
Trump's ban spurred massive protests at airports nationwide the weekend after it was signed. If Trump moves forward with the stay, he'll be defending an unpopular order — in a Gallup poll, 55% of those surveyed disagreed with Trump's refusal to admit refugees to the U.S., especially Muslim refugees.