Thousands continue to protest Donald Trump in third week of presidency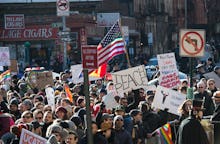 Activists planned at least 34 #ResistTrump events in protest of President Donald Trump, his administration and his growing number of far-reaching executive orders this weekend, rallying in major cities from coast to coast.
Hundreds turned up outside Stonewall Inn, New York's iconic landmark and epicenter of the LGBTQ equality movement, to resist Trump's administration and his executive order banning refugees and nationals of seven Muslim-majority countries, NBC reported.
Mic's Mathew Rodriguez said the solidarity rally's attendance grew to the thousands by late Saturday afternoon.
A hundred or more turned out for a protest at Los Angeles International Airport, the L.A. Times reported, for a rally that was later met by a counter-protest by some Trump supporters.
A "growing" crowd assembled in Miami, Local 10 News reported, marching down roads, chanting "No Ban, No Wall!" and staging a sit-in before a Bank of America building.
"Thousands of people" gathered outside the state capitol in Salt Lake City, according to Fox 13, as part of a March for Refugees in support of those who were denied U.S. entry under the president's order.
In Denver, another rally focused on Betsy DeVos, Trump's nominee for secretary of education who seemingly failed to understand some basic concepts about the Department of Education's mission and is controversial for her aggressively pro-charter schools stance. Dozens organized by the American Federation of Teachers and Denver Federation of Teachers protested outside Sen. Cory Gardner's office against DeVos' confirmation, according to Fox 31 Denver.
In Philadelphia, the Inquirer reported hundreds of protesters turned out to protest a speech Vice President Mike Pence gave at the Federalist Society at Congress Hall, on Chestnut Street, later joining with a larger group of thousands for a March for Humanity at City Hall.
"'No Pence! No fear! Philly doesn't want you here!'" they chanted.
The events underscore continuing progressive resistance to Trump, whose confrontational approach to a series of high-profile controversies has done nothing to deescalate the public mood after a tense 2016 campaign season.
Protests are scheduled around the country for the rest of the weekend. According to USA Today, a coalition of activists is working to stage a major demonstration during Super Bowl 51 in downtown Houston on Sunday night.