Anti-fascist activists arrested after New York City LGBTQ solidarity rally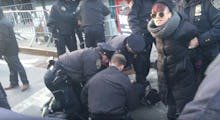 On Saturday, anti-fascist activists protesting alongside New York City's LGBTQ community were arrested after an altercation between them and a person who they say was shouting pro-Trump rhetoric in their faces. 
After the LGBTQ Solidarity Rally in front of the historic Stonewall Inn, the several thousand people in attendance scattered through the West Village's side streets and made their way towards the subways. Within a few minutes of the rally's end, a group of anti-fascist activists began verbally sparring with a man in the street. The man, who walked away from the altercation, was defending himself from being called a Nazi by some of the protesters. 
Several people at the scene told Mic that one of the members of the anti-fascist protesters, a black woman whose first name was Atta, was singled out and asked for a form of identification. Though it was unclear whether she handed identification to the police, several officers brought the black female protester to the ground. Though it is hard to determine how many officers brought her down, several people in the vicinity began to yell that eight officers were crowding around the protester. 
While Mic was filming, one protester yelled, "We are organizers with RefuseFascism.org. We were being intimidated by brown shirt Nazi Trump supporters. These police stepped in to defend them." 
People in the vicinity, many of whom were not anti-fascist protesters, began to yell "Let them go!" to the police, who formed a circle around several of the protesters. 
One of the people at the scene, Jack Curious, a transgender man who had been speaking with the protesters, told Mic that he saw police zero in on the woman of color in the group, put their hands on her shoulders and ask for her ID. Curious also wrote about the incident on his Facebook and identified the woman held down by police as Atta in a video he provided to Mic. 
In a tweet from the group's Twitter account sent out shortly after the arrests, the anti-fascist activists said police were driving them around instead of going directly to the precinct. 
The New York Police Department's 6th precinct did not give Mic any information about the arrests when called for comment. 
The account later tweeted that the activists were held overnight at central booking. 
According to the group's latest tweets, all four protesters arrested have been released. 
Mic has reached out to the protesters who were arrested and will update the story when they return the request for comment.