Avalanches in Afghanistan and Pakistan leave more than 100 people dead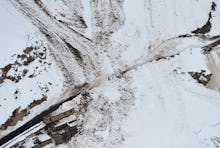 Avalanches in Afghanistan and Pakistan have completely buried two villages and killed more than 100 people, the BBC reported Sunday. 
Heavy snowfall in recent days has battered homes, stranded drivers in freezing cars, and blocked roads and mountain passes. The snow has proved, in many cases, an insurmountable obstacle to rescue operations. More than 50 people were killed in the northern Afghan province of Nuristan; avalanches also struck the capital, Kabul, and the province of Badakhshan. 
"Several dozens are still trapped," Badakhshan spokesperson Naweed Frotan told Sky News. "We are trying to rescue them."
According to Fox, the avalanches have destroyed more than 150 homes and 2,500 acres of farmland. 
In Pakistan, some 13 people have reportedly died in the district of Chitral, according to Sky News. Another nine — including four children — were killed in the nearby village of Shershal, which has received an estimated 4 feet of snow. 
Sky News reported that avalanches aren't foreign phenomena in the region. Indeed, deadly snowstorms hit Afghanistan in late February and early March 2015. At the time, 40 avalanches rocked the province of Panjshir in a single weekend, killing 196 people by March 2. 
According to the Guardian, severe winter weather in northern Afghanistan killed 27 children in January. The gravity of the storms was worsened by the fact that the country does not have the necessary resources to rescue people from the hardest-hit mountainous areas.