Why are designers staging a mass exodus from New York Fashion Week?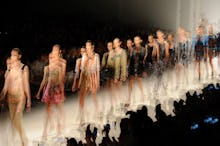 In the course of New York Fashion Week's nine official days, more than 300 designers show their collections, jam packed into tiny rooms, large studios or sometimes even old-school Manhattan bars. At any given time, three or four different designers could be showing their latest clothes simultaneously, creating a cavalcade of new designs to analyze. 
For years, NYFW has been the epicenter for groundbreaking, exciting fashion, where designers like Michael Kors, Ralph Lauren, Oscar de la Renta, Vera Wang and Marchesa show their latest collections — and give a preview of what the stars will be wearing at award shows to come. 
But this year, there will be a few very notable absences, as there is now a bit of a mass exodus from New York Fashion Week. 
Rodarte, the LA-based brand with fans like Brie Larson and Elle Fanning, is ditching NYFW and moving things to Paris. And after this season, Proenza Schouler has promised that its next show is going to be in Paris as well.
For some designers, like Givenchy, New York City has never been the epicenter for its designs, save for 2015, when designer Riccardo Tisci put on a special show on Sept. 11. But for brands like Rodarte and Proenza Schouler, both American brands, NYFW has been their home. 
And now they're gone. 
In addition to them, Opening Ceremony, which hosted a massive NYFW show in September complete with movie stars, opted for a ballet show this year rather than a fashion show. 
And it's not just Paris that's taking all the uber-popular shows away from New York City. It's Los Angeles too. 
Rebecca Minkoff, Rachel Comey and Tommy Hilfiger, who hosted a bash of a runway show in September with Gigi Hadid, are now all moving their next shows to Los Angeles. 
So, what gives? Is New York City not cool enough? Is the rapid pace of showing in February and September just not conducive anymore? 
The designers themselves haven't been super revealing about the moves.
Though, Proenza Schouler did admit that the move to Paris itself was strategic, with the brand wanting to put more emphasis and time and money (it sounds like) on runway shows, rather than retail. 
"Currently a large percentage of the brand's sales are placed during the pre-collection market with the smaller balance going to the runway delivery, which, in truth, is the heart and soul of the Proenza Schouler brand," a statement from the label read. "This shift in strategy will ensure that Proenza Schouler's runway collection, including both ready-to-wear and accessories, will be the focus of buys and will deliver to stores earlier, thus giving them a longer life at retail."
So maybe it's all about business. 
But on the other hand, maybe it's that the bustling week of NYFW is just too, well, bustling. Too many designers. Too many clothes. Too many trends. Too many chances to be overshadowed by buzz over craftsmanship. After all, the highlight for many during New York Fashion Week now is, frankly, Kanye West's Yeezy, usually a spectacular display of ego and celebrity. 
There is an upside to this exodus though. What the open slots offer is new talent — and an opportunity for the week to dust itself off a bit and reassess what NYFW is really about. 
The highlight, after all, shouldn't be Kim Kardashian West sitting front row. It should be clothes that change the rules of the fashion game or, at the very least, make us think.
Feb. 8, 2016, 8:01 a.m.: This story has been updated.