What Melania Trump wore for her third week as first lady — after she came out of hiding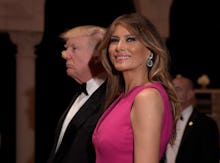 After more than a week in hiding, not making any appearances at all from Jan. 21 to Feb. 3, which certainly caused us to fret, we're happy to report that Melania Trump is alive and well. 
She's back, and as a result, we can do our job of reporting on what she wears again. We know, the weight on your shoulders has just been lifted. We'll give you a moment to really let this relief sink in. 
On Friday evening, she reemerged in Palm Beach, Florida, of course, greeting her husband on the tarmac as he departed from Air Force One into the bright sunshine of the Sunshine State, ready to be whisked away to Mar-a-Lago. 
This is what she wore: 
Friday, Feb. 3: A red dress for National Wear Red Day
Last Friday, for her grand reemergence, Melania Trump opted to wear a red Givenchy dress with sensible, flight-friendly matching red flats as she approached Air Force One to greet her husband. The dress is very similar to one found on Net-a-Porter, selling for $2,095.
The dress itself had hidden meaning. As Stephanie Winston Wolkoff, Melania Trump's senior adviser, told the New York Times, she wore the caped red dress in honor of "National Wear Red Day, which is to highlight the importance and raise awareness about heart disease."
Saturday, Feb. 4: A bright pink Dior dress for a Red Cross gala
Refreshed after more than 24 hours of being hidden away, Trump emerged once more at the 60th Annual Red Cross Gala, conveniently located at the Mar-a-Lago estate in Palm Beach, this time in a hot pink gown designed by Dior.
At this point, you may be noticing something. For two of her first appearances as first lady, Trump is wearing European designers. While many other previous first ladies tried their hardest to respect and shine a light on American designers, Trump has opted to merely wear some of her own personal favorites. 
It's a big enough deal that Trump's adviser Winston Wolkoff commented on the matter. "Mrs. Trump is a proud and longtime supporter of American fashion," Winston Wolkoff told the New York Times. 
She appreciates fashion as art. As a former model, she has always been a patron of the world's most distinguished designers both here and abroad. Mrs. Trump buys from an international mix of brands because that is what reflects her uniquely American life experience and style. She is more excited than ever to make a platform for American designers as she did on one of the most important weeks in history, the Inauguration, showcasing the extraordinary talents of American designers.
But this week, honoring American designers would just have to wait until Sunday. 
Sunday, Feb. 5: Trump wears a designer who's definitely not a fan
What do you wear to a Super Bowl party? For many of us, it's Cheeto-encrusted sweatpants and an XXL T-shirt with Garfield eating pizza across the front. For Trump though, it's a periwinkle sweater from designer Derek Lam and white leather pants from the Row, Mary-Kate and Ashley Olsen's label. 
That's right, y'all. The first lady wore the Olsen twins. May this day go down in history. But other than that, there is actually something notable about Trump wearing Lam. 
Although Lam was a favorite of Michelle Obama's, Lam has been outspoken about not wanting to fashion Trump. 
"While I have incredible respect for our country's political institutions, I find it challenging to be personally involved in dressing the new first lady," Lam told Women's Wear Daily. "I would rather concentrate my energies on efforts towards a more just, honorable and a mutually respectful world. ... I don't wish my comments to seem I am prejudging her personal values, but I really don't see myself getting involved with the Trump presidency."
Well here he is now, getting involved in the presidency. But it's not like Lam worked with Trump on this sweater. She simply bought it herself. And this poses a unique issue for designers who have spoken out against her. 
There is nothing stopping Trump from buying any designer herself. Really, it's not up to the designers at all. Sure, they can refuse to custom-make her something, like Naeem Khan has already done, but nothing is stopping Trump from looking through Net-a-Porter and saying, "I want to wear this," without thinking if the designer likes her (or her husband) or not. 
Really, she doesn't seem to care whether or not they do.