How did Putin get a New England Patriots Super Bowl ring? Robert Kraft wants Trump to get it back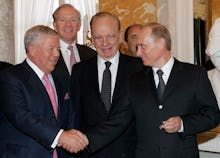 Robert Kraft, owner of the New England Patriots, claimed once again that Russian President Vladimir Putin stole one of his Super Bowl rings in 2005 – and he is hoping his buddy Donald Trump can get it back for him.
"I do have an emotional attachment to that ring," Kraft said Sunday on Fox Sports. 
According to Kraft, he and other American business leaders were meeting with Putin in 2005 when he showed the ring to Putin, who remarked that he "can kill someone with this" and then pocketed it. Kraft claimed in 2013 that the George W. Bush administration urged him pretend that the ring was a gift so as to preserve Russia-U.S. relations.
Kraft said Sunday that he still wants the ring back and that he is willing to have a special ring made for Putin in exchange.
"I was willing to have one made with his name on it," Kraft said Sunday. "Maybe we will have the new president bring it to him when he connects with him."
The stolen Super Bowl 39 ring is reportedly worth $25,000.
The Patriots are aiming for their fifth Super Bowl ring of the Kraft era as they take on the Atlanta Falcons Sunday night.