Watch Luke Bryan sing the national anthem at the 2017 Super Bowl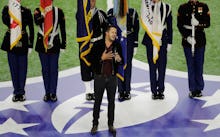 Country singer Luke Bryan kicked off the 2017 Super Bowl with a stirring rendition of the national anthem.
Bryan is just the sixth country singer — and the third male country singer — to sing the national anthem at the Super Bowl, the Washington Post notes. The last country performer to sing "The Star-Spangled Banner" was Carrie Underwood in 2010.
The Georgia native will be rooting for the Falcons over the New England Patriots in the Super Bowl, he told Rolling Stone.
"Every year, a lot of people want to ask me, 'Who are you pulling for?'" Bryan said. "I would always dodge the question and try to stay pretty neutral because I would have fans in both markets. But I gotta step out there and say I'm pulling for my [Atlanta] Falcons this year."
Bryan struck some as an odd choice for the coveted singing gig, given his fraught history with the national anthem. Bryan was widely criticized for his national anthem performance at the 2012 Major League Baseball All-Star Game, where he was caught reading the lyrics off his hand while performing.
Bryan later apologized for the performance. "Anytime I sing the anthem it is an honor and my heart beats out of my chest," he emphasized.
Thankfully, Bryan didn't repeat his mistake during his Super Bowl performance, which went off without a hitch. Watch Bryan's rendition of "The Star-Spangled Banner" below.
And for those betting at home, the unofficial time of Bryan's national anthem is 2:04.07.