Coca-Cola's Super Bowl 2017 commercial spotlights US diversity — and people are pissed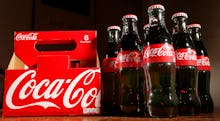 In the wake of President Donald Trump's divisive "Muslim Ban," the Coca-Cola Company revived a past controversy by using their 2017 Super Bowl ad space to celebrate America's diversity.
Coca-Cola's "It's Beautiful" commercial, which originally debuted during the 2014 Super Bowl, features a multilingual rendition of "America the Beautiful." The commercial stars a diverse cast of Americans from a range of backgrounds, from Muslims and African-Americans to white cowboys, reminding us that America's diversity is what makes this country so "beautiful" in the first place.
The commercial sparked controversy following its 2014 debut, as conservatives lambasted its more inclusive take on an American classic. Alt-right website Breitbart decried the commercial in an article titled "Why Coca-Cola's Multicultural 'America the Beautiful' Ad Was Offensive."
Now, the ad's revival in an even more divisive political climate has sparked controversy once again, as users on Twitter were quick to offer their complaints about Coca-Cola's political stance:
Of course, for all the complaints, many were just as quick to praise Coca-Cola's inclusivity:
With the advertisement's revival, Coca-Cola joins other high-profile companies in taking a stance against Trump's executive order by celebrating America's diversity, including Budweiser and Google.