Lady Gaga's Super Bowl halftime show was a masterful performance with subtle calls for inclusion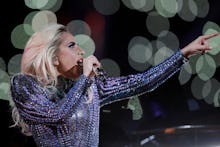 All eyes were on Lady Gaga heading into the 2017 Super Bowl. Following yet another week of protest and unrest in Donald Trump's America, the world was waiting to see how divisive, how political, how "satanic" she would dare to be with everyone watching. All those looking for another didactic liberal celebrity to trash or a call to arms for the resistance were disappointed — her performance was no Beyoncé Black Panthers nod at Super Bowl 50 or Meryl Streep Golden Globes speech. 
Gaga did exactly what she said she would: deliver a masterful performance while continuing to offer the same message of hope, compassion and inclusion she's been making since day one.
"The only statements I'll be making during the halftime show are the ones that I've been consistently making throughout my career," Gaga said during a press conference Thursday, according to the LA Times. "I believe in passion for inclusion. I believe in the spirit of equality, and that the spirit of this country is one of love and compassion and kindness. My performance will uphold those philosophies." 
In doing so, Gaga walked a delicate line: She managed to get across some subtle messages of resistance, without raising red flags for Trump supporters.
Gaga relied on her song choices to communicate her political messages. She opened with a medley of "God Bless America" and "This Land Is Your Land," emphasizing "liberty and justice for all." 
Despite its status as one of our country's most beloved patriotic hymns, "This Land Is Your Land" offers more political commentary than most likely realize. Written by Woodie Guthrie, the song's original lyrics give an acerbic critique of America's stark socio-economic divide — something that may widen under the Trump administration. 
A careful student of classic rock and American music history, Gaga is, in all likelihood, aware of the song's more radical verses. The following verse is one Guthrie wrote but never recorded, according to NPR:
One bright sunny morning in the shadow of the steeple,
Similarly, Gaga's own songs include these messages of inclusion and acceptance, which the anti-Trump resistance has kept at the forefront of its movement.
"Don't be a drag, just be a queen," Gaga sang in "Born This Way." "Whether you're broke or evergreen / You're black, white, beige, chola descent / You're Lebanese, you're orient."
The words came off like spear points hurled at the Trump administration's recent proposals: their Muslim ban, their border wall. 
Other than that, the performance was surprisingly tame, especially for an artist who's established herself as one who's willing to confront political figures and conversations. Back in October, she challenged those trying to minimize or normalize the allegations of sexual assault against Trump.
"Trump's words [at the] debate sent abused women into a panic," Gaga tweeted at the time, later adding the hashtag #WhyWomenDontReport to help skeptics understand. "For me, it was like re-living it all over again. I applaud these women."
Her Super Bowl performance had little of the same confrontational aspects. Gaga instead focused on her art — on nailing her transitions, choreography, her piano accompaniment during "Million Reasons." Her choice of "Just Dance" seemed to acknowledge her strategy of trying to create a brief moment to remind America of its values, without putting anyone off: "Just dance, it'll be okay."
During her pre-Super Bowl press conference, Gaga was asked if her performance would help in "the unifying of a fractured America." She responded: "You'll have to ask America when it's over." 
As Americans prepare to once again face the country's ongoing political tumult Monday, those on both sides of the political spectrum may very well remember Gaga's halftime performance fondly — as a brief breath of fresh air before the struggle continues.