Super Bowl 2017 Movie Trailers: 'Logan,' 'Pirates of the Caribbean' and 7 other TV spots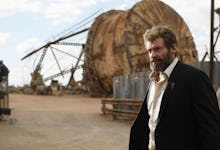 Super Bowl commercials certainly delivered on Sunday night. Some ads used their precious time to troll Trump while others shared an empowering message for young girls. But it was the movie trailers that really had eyes glued to the small screen. Teasers for upcoming films like Logan, Pirates of the Caribbean: Dead Men Tell No Tales and Guardians of the Galaxy: Volume 2 all aired during the big game. 
Watch every movie trailer that debuted during the 2017 Super Bowl.
Life
Guardians of the Galaxy: Volume 2
Ghost in the Shell
Logan
Pirates of the Caribbean: Dead Men Tell No Tales
Transformers: The Last Knight
The Fate of the Furious
Baywatch
A Cure For Wellness