Karina Vetrano Murder: Chanel Lewis charged in killing of Queens jogger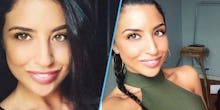 Chanel Lewis, 20, has been charged with second-degree murder in the Aug. 2 killing of Karina Vetrano, a 30-year-old woman who was found dead less than a mile from her home after going on a jog, the New York Daily News reported.
Lewis allegedly raped and strangled Vetrano while she was out running through Spring Creek Park. He left her body 15 feet off the running path. Vetrano's father later found her "face down amid towering weeds," according to the Daily News.
Prior to Lewis' arrest, police had struggled to find a suspect in Vetrano's murder for six months due to a combination of forces: no DNA records that matched the criminal system, as Lewis has never been arrested before, and an attack that appeared completely random.
According to an unnamed law enforcement source who spoke with the Daily News, the break came only after Lt. John Russo remembered calling in reports of suspicious activity in the area a few months before Vetrano's murder. The paper reports Russo called police on Lewis twice in late May. Another resident had also called police about Lewis' suspicious activity. Lewis had left the area before police arrived for the first two calls, but was found and questioned after the third call.
Lewis voluntarily submitted a DNA sample during questioning. New York Police Department chief of detectives Robert Boyce told the Daily News that Lewis' DNA sample came back as a match to DNA found under Vetrano's fingernails, on her back and on her phone.
During Lewis' arraignment on Sunday in Queens Criminal Court, assistant district attorney Michael Curtis noted that "this defendant admitted to attacking the victim, admitted to beating her, to strangling her and dragging her body into the weeds. DNA links this defendant to scene of the crime."
Queens district attorney Richard Brown, speaking to reporters on Sunday at the 106th precinct stationhouse, said "this is a great day for the community and the detectives that worked day in and day out and of course it will hopefully bring some closure to the Vetrano family," the Daily News reported.