The true story of Bette Davis and Joan Crawford's feud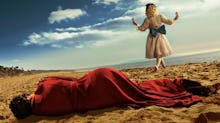 In the age of Twitter and Instagram, celebrity feuds seem like no big deal. We're used to seeing people being called out, lies exposed and posts deleted. But, back in the day, there was a Hollywood feud that garnered so much hype it is now being adapted into its own TV series.
Created by Ryan Murphy, Feud: Bette and Joan is an upcoming FX series that takes a closer look at the infamous battle between legendary actresses Bette Davis and Joan Crawford, played by Susan Sarandon and Jessica Lange respectively. Before the series airs on March 5, here's everything you should know about the strained relationship between the two actresses. 
Origins
Every feud's got to start somewhere, and the one between Davis and Crawford allegedly began back in the 1930s. Davis was shooting Dangerous, a film about an alcoholic actress, and apparently had a crush on her co-star Franchot Tone. Unfortunately for her, Crawford had her eyes on him too, and even went so far as to invite Tone to her home, where he reportedly found her naked in her solarium. Crawford and Tone eventually married. Dangerous — which won Davis her first Oscar — was released in 1935. Crawford had yet to be nominated for an Academy Award.
Whatever Happened to Baby Jane? 
The rivalry between the actresses truly intensified with the filming of Whatever Happened to Baby Jane?
The 1962 film stars Davis and Crawford as two sisters — both aging has-been actresses who are locked up in a mansion. Davis plays Jane, who begins to not only lose her mind, but also starts to torture her sister Blanche, who is in a wheelchair. 
The production of the film was reportedly fraught with tension, Davis supposedly kicked Crawford in a scene. To retaliate, Crawford tried to make herself heavy for scene where she was to be dragged by Davis, to cause her strain. She allegedly put rocks in her pocket to weigh her down.
By the time the Oscars rolled around, only Davis was nominated for her role. She lost to Anne Bancroft. Bancroft, however, was not around to collect the prize, and Crawford took the stage to collect the award instead. Crawford was rumored to have called every nominated actress to request that she collect their awards in the case they couldn't make the ceremony. 
Afterwards
Despite their transparent hatred for one another, the two actresses agreed to reunite with Aldrich for the film Hush… Hush, Sweet Charlotte in 1964. However, the reunion was very short-lived. 
Crawford claimed she was ill, which ultimately caused production to stop. Aldrich had to replace the actress or else the film would be trashed. Ultimately, Olivia de Havilland took Crawford's place, and Davis and Crawford never worked together again.
Their feud, however, still didn't seem over, even after Crawford died.
"You should never say bad things about the dead, you should only say good," Davis reportedly said. "Joan Crawford is dead. Good."