What the amicus brief from Apple, Google and 95 other tech firms really does to Trump's travel ban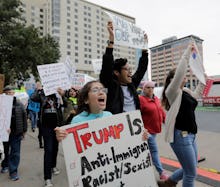 Think of a major technology company. There's a decent chance that whichever one you thought of was among the 97 firms filing an amicus brief on Sunday — against President Donald Trump's executive order restricting travel from seven Muslim-majority countries. 
The brief, which has since been widely shared online, argues that the 90-day ban on immigrants from seven countries — Libya, Iran, Iraq, Somalia, Sudan, Syria and Yemen —  is illegal and that it will discourage foreign workers from seeking employment in the U.S. 
"The Order represents a significant departure from the principles of fairness and predictability that have governed the immigration system of the United States for more than fifty years," the brief reads, and "inflicts significant harm on American business, innovation, and growth as a result." 
Companies listed on the suit include Apple, Facebook, Google, Twitter, and Microsoft, among others. (See the full list below.)
The filing is just the latest move in an epic legal battle that's increasingly likely to end up in front of the Supreme Court. In addition to showing a unified front against Trump's executive order, it argues that the ban will hurt our economy by encouraging companies to "build operations — and hire new employees — outside the United States," as Forbes notes.
The brief goes on to argue why the ban violates both constitutional and immigration law.
But as TechCrunch states, some noteworthy names that have met with the president in the past are missing from the list.
These include Amazon, IBM, Oracle, and Tesla, whose CEO Elon Musk has taken flak for refusing to drop out of Trump's economic advisory council. (Uber CEO Travis Kalanick announced his decision to leave the council last week.)
An Amazon spokesman told Mic the company is already listed as a witness in the original lawsuit — and thus didn't join Sunday's amicus brief by the request of Washington attorney general Bob Ferguson.
But, as University of California at Davis computer science professor Norm Matloff points out, many tech companies in Silicon Valley may have a self-interested reason to fight Trump's several proposed new restrictions on hiring immigrants: There's evidence that technology firms like hiring foreign workers since it's easier to pay them less.
A congressional report even shows these employees get "lower wages, less senior job titles, smaller signing bonuses and smaller pay and compensation increases than would be typical" — because immigrants on work visas have a harder time leaving jobs and are essentially stuck, Matloff argues.
That said, the amicus brief focuses specifically on the legality of the travel ban (not work visas). Here's what we know.
The legal battle over the travel ban is just starting
The brief was filed in support of U.S. District Court Judge James Robart's Friday ruling putting Trump's executive order on hold.
Early Sunday, the 9th Circuit Court of Appeals in San Francisco blocked a Trump administration request to reinstate the ban. The three-judge panel has requested briefs from both sides before making a final decision.
If the case then goes on to Supreme Court, as expected, five of the eight justices will have to agree in order to break the tie, USA Today reports.
Otherwise, Robart's decision stands. 
That restraining order against the ban, brought by Washington State and joined by Minnesota is just one of several legal challenges to Trump's order.
Other states are mounting their own legal challenges to the immigration ban, including Massachusetts, New York, and Virginia, though USA Today reports those decisions are all pending. 
What's an amicus brief?
An amicus brief, such as this one filed to the 9th Circuit, is what's known as a "friend of the court" briefing — an opportunity for parties not necessarily named in the legal action to chime in with information that might be helpful or have bearing on the case.
They're generally brought froward in cases where there's lots of public interest, particularly civil rights cases: although the court is under no legal obligation to follow or listen to an amicus brief's advice.
That said, these briefs can have a powerful effect.
For example, in the landmark Brown v. Board of Education case that wound up helping racially desegregate schools, advocacy groups filed an amicus brief alongside the plaintiffs, including the ACLU, the Anti-Defamation League, and the Japanese American Citizens League.
These organizations weren't named in the original lawsuit, but helped add moral and legal weight to the plaintiff's case about the negative consequences of segregated schools.
Which tech companies filed the amicus brief against Trump's travel ban?
Here the full list:
1. AdRoll, Inc.
2. Aeris Communications, Inc.
3. Airbnb, Inc.
4. AltSchool, PBC
5. Ancestry.com, LLC
6. Appboy, Inc.
7. Apple Inc.
8. AppNexus Inc.
9. Asana, Inc.
10. Atlassian Corp Plc
11. Autodesk, Inc.
12. Automattic Inc.
13. Box, Inc.
14. Brightcove Inc.
15. Brit + Co
16. CareZone Inc.
17. Castlight Health
18. Checkr, Inc.
19. Chobani, LLC
20. Citrix Systems, Inc.
21. Cloudera, Inc.
22. Cloudflare, Inc.
23. Copia Institute
24. DocuSign, Inc.
25. DoorDash, Inc.
26. Dropbox, Inc
27. Dynatrace LLC
28. eBay Inc.
29. Engine Advocacy
30. Etsy Inc.
31. Facebook, Inc.
32. Fastly, Inc.
33. Flipboard, Inc.
34. Foursquare Labs, Inc.
35. Fuze, Inc.
36. General Assembly
37. GitHub
38. Glassdoor, Inc.
39. Google Inc.
40. GoPro, Inc.
41. Harmonic Inc.
42. Hipmunk, Inc.
43. Indiegogo, Inc.
44. Intel Corporation
45. JAND, Inc. d/b/a Warby Parker
46. Kargo Global, Inc.
47. Kickstarter, PBC
48. KIND, LLC
49. Knotel
50. Levi Strauss & Co.
51. LinkedIn Corporation
52. Lithium Technologies, Inc.
53. Lyft, Inc.
54. Mapbox, Inc.
55. Maplebear Inc. d/b/a Instacart
56. Marin Software Incorporated
57. Medallia, Inc.
58. A Medium Corporation
59. Meetup, Inc.
60. Microsoft Corporation
61. Motivate International Inc.
62. Mozilla Corporation
63. Netflix, Inc.
64. NETGEAR, Inc
65. NewsCred, Inc.
66. Patreon, Inc.
67. PayPal Holdings, Inc.
68. Pinterest, Inc.
69. Quora, Inc.
70. Reddit, Inc.
71. Rocket Fuel Inc.
72. SaaStr Inc.
73. Salesforce.com, Inc.
74. Scopely, Inc.
75. Shutterstock, Inc.
76. Snap Inc.
77. Spokeo, Inc.
78. Spotify USA Inc.
79. Square, Inc.
80. Squarespace, Inc.
81. Strava, Inc.
82. Stripe, Inc.
83. SurveyMonkey Inc.
84. TaskRabbit, Inc
85. Tech:NYC
86. Thumbtack, Inc.
87. Turn Inc.
88. Twilio Inc.
89. Twitter Inc.
90. Turn Inc.
91. Uber Technologies, Inc.
92. Via
93. Wikimedia Foundation, Inc.
94. Workday
95. Y Combinator Management, LLC
96. Yelp, Inc.
97. Zynga, Inc.
February 6, 2016, 1:27 p.m.: This story has been updated.
Sign up for The Payoff — your weekly crash course on how to live your best financial life. Additionally, for all your burning money questions, check out Mic's credit, savings, career, investing and health care hubs for more information — that pays off.