When will 'Pirates of the Caribbean: Dead Men Tell No Tales' be released in theaters?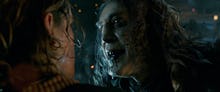 There were a ton of memorable Super Bowl ads during Sunday night's big game, but movie and TV trailers for some of the most anticipated releases took over the night. 
We got our first look at blockbusters like Transformers: The Last Knight and a teaser for the second season of Netflix's Stranger Things. We also got an extended look at Pirates of the Caribbean: Dead Men Tell No Tales, the latest installment in the Disney franchise. Fortunately, we don't have to wait too much longer to reunite with Captain Jack Sparrow. The fifth Pirates of the Caribbean film premieres Memorial Day weekend on May 26. 
The plot
In the new movie, Captain Jack Sparrow — played by Johnny Depp — returns, a bit down on his luck. And things only get worse when he encounters a slew of ghost sailors, led by Captain Salazar — played by Javier Bardem — who have just escaped the Devil's Triangle. Salazar is on a killing spree on the open sea, but he has his eye on one pirate in particular: Jack. In order to survive, Jack must find the Trident of Poseidon, but it won't be an easy mission.
The cast
Depp and Bardem are joined by Geoffrey Rush, Kaya Scodelario and Brenton Thwaites. Orlando Bloom will also make his big return to the series after bowing out following the third installment, Pirates of the Caribbean: At World's End, in 2007. The film is co-directed by Joachim Rønning and Espen Sandberg, who worked together on Bandidas and Max Manus: Man of War. 
The fifth film in the franchise is a follow-up to Pirates of the Caribbean: On Stranger Tides, which was released in 2011. In the fourth film, Captain Jack Sparrow and company cross paths with his former lover Angelica — played by Penélope Cruz — but they're not sure if they can trust her as she may be using them to find the Fountain of Youth.