Will the Patriots go to the White House? After win, players are split over Trump visit.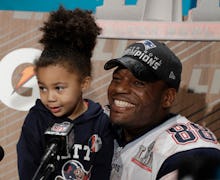 On Sunday night, the New England Patriots pulled off a historic comeback to secure a Super Bowl win — the franchise's fifth.
Next stop, the White House. Right?
That depends. Traditionally, the winning Super Bowl team heads to Washington, D.C., for a victory ceremony with the president — the Patriots met President Barack Obama after their 2015 victory — but at least one player, tight end Martellus Bennett, will be skipping the proceedings entirely, USA Today reported.
In the days leading up to the Super Bowl, Bennett, an eight-year NFL veteran, told reporters that he probably wouldn't meet with President Donald Trump if his team won because "I don't support the guy that's in the [White] House." When asked for a definitive yes or no, he told reporters: "I've got to win the Super Bowl, but most likely no."
When asked after winning the Super Bowl if his stance had changed, USA Today reported Bennett seemed to withdraw slightly, shifting his daughter in his lap and saying with a nervous laugh, "I haven't thought about it since that day, but I'm not going to go." 
"People know how I feel about it," he added. "Just follow me on Twitter."
While Bennett's more recent tweets focus on soft platitudes about love and inclusion ("America was built on inclusiveness not exclusiveness," he tweeted on Jan. 30), he is candid on his feelings about the new president. A tweet from December criticizes rapper Kanye West for meeting with Trump, whom Bennett likens to Lord Voldemort: "So Kanye didn't take the time to vote. And now he holding on to Trump's coattail like Peter Pettigrew to Lord Voldemort. Kanye Pettigrew." 
Another, posted in late January and likely in response to Trump's travel ban that was signed just three days earlier, says "Surprised the president dude didn't ban celebrating Chinese New Year in America!!"
Reporters also asked Bennett if he was worried about the blowback his refusal could cause, since teammate and game MVP Tom Brady, owner Bob Kraft and head coach Bill Belichick are reportedly all very friendly with Trump. Bennett said he wasn't worried.
"I just won the Super Bowl, I don't want to talk about politics," Bennett told reporters. "I want to talk about winning in the Super Bowl."