Was Lady Gaga's Super Bowl performance political enough? The internet is divided.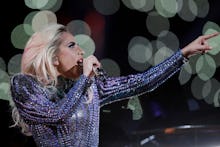 On Sunday, Lady Gaga entertained fans with a set that included spot-on vocals, high-flying trapeze stunts and more than one jump off something high. While many would agree Gaga's set was more than entertaining, the internet is divided as to whether Gaga's performance was truly political. 
In January, reports that the NFL had asked Gaga not to talk about politics or Trump swirled around the internet. The NFL later squashed those rumors. Then, the weeks preceding the halftime show were a political maelstrom. Trump signed an executive order to deny people from seven Muslim-majority countries as well as all refugees entry into the United States. And only a few days later, leaked text of a possibly upcoming religious freedom order allowing widespread, state-sanctioned discrimination hit the internet. 
Gaga didn't speak to any of these overtly in her performance, to the dismay of some. Those who didn't see politics in Gaga's performance fell into two camps: people who were happy she wasn't political and those who wanted more from the outspoken LGBTQ advocate during her time on the national stage. 
Here are a few who praised Gaga for staying away from politics: 
And some from people who expected more from her: 
Twitter users began fighting each other about whether Gaga's show rose to the occasion and made a political message. 
Before the night ended, outlets like Teen Vogue were already defending Gaga's political message. By the morning, several outlets — including Vanity Fair, the Independent and USA Today — had reported on Gaga's "hidden political message," in the form of the socialist-penned anthem "This Land Is Your Land." 
For some, however, Gaga's messaging was a little too "hidden." 
Gaga's schtick has always been political, no doubt. A 2015 study even went so far as to interview her fans to gauge how much Gaga's social activism — from anti-bullying to LGBTQ equality  to sexual assault awareness — has politicized them. Gaga's persona is an inherently political one that demands inclusion, diversity and love. 
But, in the time of Muslim bans and denying refugees, her old schtick proved not to be enough for some fans. Maybe it's because Americans themselves have been more politically charged in recent weeks than any time in recent history. In the less than three weeks since Trump's inauguration, protesters have filled America's streets regularly. 
Aside from pressure to speak during this political moment, Gaga headlined the first Super Bowl halftime show since the Beyoncé's Black Panther-themed takeover of Coldplay's halftime show in 2015. With Beyoncé's extra woke performance still fresh in people's minds, Gaga's hidden message seems to not have been up to snuff for people still high off of the Black Lives Matter-themed performance. 
But Gaga did succeed in at least one way: she did take the opportunity to sing the "Born This Way" lyric, "no matter gay, straight or bi, lesbian, transgender life," to conversion therapy supporter Vice President Mike Pence, who had a damn near front row seat to a Lady Gaga concert.
Perhaps the strangest part of Gaga's performance was that its message was subtle. The Gaga the world knows wore a meat dress to protest "Don't Ask, Don't Tell." Because her mantra has never been subtlety, her silence probably feels to some less like a political betrayal and more like brand inconsistency. Given that Gaga's Joanne era has placed one big question mark over Gaga's persona, her performance on Sunday night, while entertaining, was not out of the ordinary.