'The Americans' season 5 debuts new promo video on Super Bowl Sunday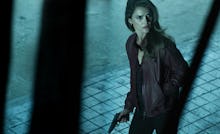 We're only a month away from the fifth and penultimate season of The Americans, which premieres on FX March 7 at 10 p.m. Eastern. While we still don't know much about what's in store for season five, we're fortunate to be getting a few quick but provocative promo videos for the upcoming season. 
The latest, which premiered on Super Bowl Sunday and can be viewed below, shows Philip and Elizabeth Jennings in bed. We hear a voiceover, in Russian, and we see her fondle his chest. That's pretty much it, other than a few quotes that appear on the side from different outlets asserting that the drama is consistently ranked as one of our greatest.
The season five plot
Season four ended ominously, with Philip and Elizabeth having to decide whether or not to continue their lives in America, always at risk, or finally ending their mission and heading back to Mother Russia. 
A synopsis of the newest season seems to suggest they stayed.
In the new season of FX's drama 'The Americans,' the arranged marriage of Philip and Elizabeth Jennings grows more passionate and genuine in the midst of the escalating Cold War. Paige's budding romance with Matthew, the son of their neighbor, FBI Agent Stan Beeman, further complicates matters since Stan — Philip's best friend — remains the greatest threat to the Jennings' safety.
Sneak peek videos
In addition to the latest promo, FX has released two others. Both begin pretty innocuously, showing the more mundane side of the Jennings' lives. The first shows Paige leaving school with friends. Everything seems good until a swarm of low-flying planes swoop by, causing everyone — except Paige — to freak out and duck for cover. She's used to crazier things. The second is similar, only this time it's Philip and Elizabeth leaving their home, presumably headed to work. The planes zoom by but they don't seem notice. Like their daughter, they don't scare easily.
Unless we learn more in the coming days, you can tune in on March 7 at 10 p.m. Eastern to see what the Jennings are up to now.