Scientists can now spy on whales from space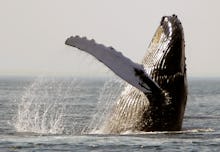 Scientists are spying on whales from space — because why not? Well, also because watching humpback whales from space allows researchers to keep tabs on population numbers for a species that, until recently, was considered endangered. 
As Mashable reported, satellite imagery is proving an effective method of tracking population sizes off the coasts of Western Australia. Humpback whales had been categorized as endangered since the 1970s, but in September, the U.S. National Oceanic and Atmospheric Administration moved nine of the world's 14 humpback whale species off the protected list — Australia's included.
Managing director for the Center for Whale Research, Curt Jenner, told Mashable that surveillance from space is an "economical solution" to the problem of diminished funding for such endeavors. Satellite imaging doesn't require putting people in planes or boats to track the whales and count their population size.
"This is like a population census, if you will, it gives you a snapshot in time of an entire population as opposed to a focus on one whale at a time," Jenner said.
Jenner and his team use the services of DigitalGlobe, a U.S. satellite company, to take black and white images of whale populations along the country's western coast on clear days. One shot costs roughly $15,270 in U.S. dollars, which Jenner said is actually quite a deal in comparison to the human-run alternative. 
Jenner told ABC that, while the recent designation of Western Australia's humpbacks as recovering was hopeful, it's hard to know for sure what's actually going on without long-term monitoring.  
"People say, 'the whale numbers are very healthy aren't they?'" he told ABC. "Well, we can't actually honestly say yes to that, we don't know because we haven't had a monitoring program for this largest humpback population on the planet for about 10 years."
The goal, he said, is to judge whether or not newly replenished whale populations can continue to thrive over time. By spying on them from space.