Brooklyn restaurant receipt reminds us that we have immigrants to thank for great food and service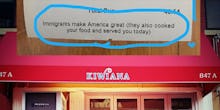 Brunch for two in New York City: $46.54. A reminder that the restaurant proudly supports and employs immigrants? Priceless.  
This weekend, a brunch receipt from Kiwiana, a New Zealand restaurant in Brooklyn, New York, went viral after Mary Emily O'Hara, a contributor to NBC News, posted a photo of her brunch receipt to Twitter. The bottom of the receipt reads: "Immigrants make America great (they also cooked your food and served you today)."
"When the check came, my brunch date and I were both surprised and amused by the statement we found on the bottom," O'Hara said in an email. I asked the waitstaff about it, and the server said it was the chef's idea — he's an immigrant from New Zealand." 
The restaurant started printing the message on receipts after President Trump's executive orders "affecting innocent people," Kiwiana owner and head chef Mark Simmons said in an email. Simmons was born and raised on a sheep farm in New Zealand and is a former Top Chef contender. "I wanted to be elaborate as to how [immigrants] are making America great," he said. 
Is this an overt political statement? "I guess it is," Simmons said. "We live in unstable times... We simply want to remind ourselves and our customers that immigrants are the backbone of the hospitality industry." He noted that the response from customers has been positive so far. 
O'Hara's tweet has been retweeted more than 47,000 times since she posted it Sunday afternoon. Many people on Twitter seemed focused on the fact that O'Hara spent up to $13 on brunch entrees like French Toast rather than the pro-immigrant sentiment at the bottom of the receipt. 
But the price is besides the point. Without legal and undocumented immigrants, the restaurant industry would be screwed. Around 1.4 million restaurant workers are "foreign-born," meaning they are legal or illegal immigrants in the U.S., the New York Times reported. 
TV host Anthony Bourdain has previously said that if President Trump follows through with his plan to deport undocumented immigrants, restaurants would be in hot water. "Every restaurant in American would shut down," Bourdain said when he was a guest on Sirius XM's StandUP With Pete Dominick. 
"Having worked in the service industry myself for many years prior to becoming a reporter, I can attest to the fact that kitchens across America are typically full of immigrant workers," O'Hara said. "To say that immigrants 'prepared your food today' is a no-brainer at almost any restaurant."
Feb. 6, 2017, 5:26 p.m.: This story has been updated.