Android 7.0 on Moto Z: When's the next update?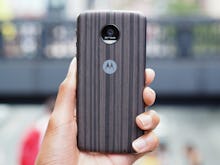 Unlocked Moto Z devices in the United States are now receiving the Android 7.0 update. Motorola USA has yet to acknowledge the rollout, according to Android Central, but Twitter users are confirming their devices have received the upgrade.
These are not the first Moto Z devices to be updated, as the Moto Z Droid and Z Droid Force — models exclusive to Verizon — received the Android 7.0 update in November. And while unlocked Moto Z devices in other parts of the world were included in the operating system update, the United States was not one of them. A Motorola rep told Android Police last month that the unlocked Moto Z Play would receive Nougat upgrades in March.
Motorola had previously announced which devices would receive the Android 7.0 Nougat update, noting rollouts would vary by carrier and region. The list included: Moto G (4th Gen), Moto G Plus (4th Gen), Moto G Play (4th Gen), Moto X Pure Edition (3rd Gen), Moto X Style, Moto X Play, Moto X Force, Droid Turbo 2, Droid Maxx 2, Moto Z, Moto Z Droid, Moto Z Force Droid, Moto Z Play, Moto Z Play Droid and Nexus 6.
As for the update itself, Motorola has called it the "the sweetest OS update yet" in a blog post. 
"It's one that speaks your language (particularly if you speak fluent Emoji), offers the ability to seamlessly switch between apps with just a double-tap, more efficient notification controls and improved battery and data saver features," Motorola wrote.
While Motorola devices are just now getting the Android 7.0 Nougat operating system, Google released an update — Android 7.1.1 — in December and is slated to roll out another incremental update with Android 7.1.2, which is currently only available for select Nexus and Pixel devices enrolled in the Android Beta Program. Motorola has not announced when, if ever, its devices will receive the most recent updates.