What is the biggest threat to American jobs? Hint: It's not immigrants.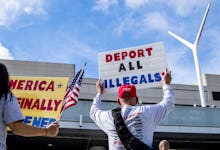 Several Super Bowl 51 commercials on Sunday took a serious departure from the usual advertising sweet spots — to strike a much more political tone. 
Both Coca-Cola and Budweiser put out spots that seemed to celebrate immigrants, and Airbnb produced an ad that seemed a direct rebuff to President Donald Trump's travel restrictions on visitors from seven Muslim-majority countries.
While some of the ads fell flat, some progressives rushed to embrace their new favorite brands on Twitter.
It's easy to see why companies felt a need to stand up for immigrants at the moment, even at the risk of politicizing, as Raul Reyes put it in a CNN op-ed, "one of the few events that brings Americans together."
Trump has made his isolationist campaign promises a centerpiece of his administration's early weeks despite the objections of Democrats, advocacy groups and even companies worrying that an anti-globalist administration will make it harder for them to do business.
The reason for the outcry is pretty simple: Not only is there a compelling moral case against Trump's travel ban, there is also a strong case that it's going to negatively impact businesses — and even jobs and U.S. workers. 
Trump has successfully identified and exploited the fact that workers are hurting — most notably through his active and often successful courtship of unions who like his plans to put "America first" through renegotiated trade agreements — but he fails to identify several important causes.
Indeed, while there are all sorts of headwinds facing U.S. workers, immigration and jobs being taken by foreign nationals are not actually at the top of the list.
Telling Americans that revoking trade deals will help them at the negotiating table is reductive at best, and extremely unfair to workers who are rightfully going to expect more work (and raises) soon.
Here are three trends that shine light on why many American workers are going to need more than a wall or a travel ban to save their jobs.
1. A big staff is less and less necessary to beat the competition
Workers need leverage to negotiate better wages, and there's evidence that their leverage has been on the decline for some time: One theory as to why this is happening is the emergence of a new class of "superstar companies" that are able to gain a large market share without many employees.
The larger these companies' market share gets, the less they need labor — meaning that workers' overall share of the economic pie goes down. 
As Bloomberg noted, most of the theories as to why this is happening are good for the economy on balance — researchers theorize that consumers have more information now to compare different products, meaning that it's easier to figure out which one is the best and to save money. 
But if it's too easy to figure out which product is the best, then competitors have a harder time breaking in, and that can lead to fewer jobs overall.
Researchers also note that many jobs being created today are from companies focused on more information-intensive products like software — and these companies don't require armies of workers to be incredibly productive. 
2. Robots are taking over complex jobs — and not just the obvious ones
You may have guessed that repetitive tasks in factories and manufacturing are major areas where automation is displacing jobs. 
But reports increasingly show that robots are starting to encroach on areas of production that human workers have assumed were safe from automated displacement: Some of the most vulnerable professions include accounting and journalism, activities involving information processing.
Indeed, McKinsey reports that about half of all workplace tasks can be automated by existing technology. And while automation can certainly create new jobs, they typically require skilled workers with college degrees.
Even Wall Street execs in fields that were once highly valued, such as asset management, may need to be wary about new software's increasing capabilities in performing their job duties, the New York Post reported. 
The theory that automation — and not immigration — is what's driving the biggest headwinds for workers is prevalent among economists. That's one reason Trump's labor secretary pick, Andrew Puzder, has been in hot water of late for his flippancy on automation and other major workforce concerns.
In statements during a Business Insider interview, which Puzder has since walked back, the fast-food executive touted the many benefits of having machines replace workers: "They're always polite, they always upsell, they never take a vacation, they never show up late, there's never a slip-and-fall, or an age, sex or race discrimination case." 
Now, while the trend of automation is certainly worrisome, automation also has the power to make workers massively more productive. The hope among many technologists is that while automation kills jobs, it will also create more wealth, bolstering the case for a universal basic income. 
3. Foreign companies don't want to hire in the U.S. anymore
A final concern for workers could ironically end up being a matter of too few foreigners — as opposed to too many.
There are many foreign companies that create jobs in the U.S., with mining towns in Pennsylvania, for example, where Mexican manufacturers have actually helped to revitalize the local economy.
One of the major concerns about Trump, Columbia University political economics professor Sharyn O'Halloran said in an interview for a previous story, has been the concern that Trump's unpredictability and hostility to globalization could make the U.S. a less attractive country to invest in. 
A recent CNBC report suggested that may already be happening, with one Iranian-German entrepreneur saying that the recent travel ban prompted him to reevaluate his plan to hire as many as 100 engineers and designers, citing "instability." 
If unchecked, this trend could take a serious bite out of U.S. employment: The International Trade Administration estimates that foreign-owned companies directly employ roughly 6.1 million jobs.
That's a solid quarter of the 25 million jobs Trump has promised to create over the course of his administration. 
But that hasn't stopped the Trump administration from seeking out evidence that immigration is to blame for U.S. job losses.
In fact, finding such proof may reportedly be one of the incoming labor secretary's first tasks, according to a section of a leaked — not yet signed — executive order reported by Fusion's Katie McDonough.
Sign up for The Payoff — your weekly crash course on how to live your best financial life. Additionally, for all your burning money questions, check out Mic's credit, savings, career, investing and health care hubs for more information — that pays off.