These social entrepreneurs prove giving back doesn't have to affect their bottom lines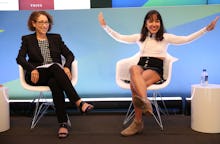 In 2006, Blake Mycoskie was 29 and running his fourth startup when he decided to take time off to travel through Argentina. Somewhere between learning how to tango and play polo, Mycoskie learned about the alpargata, a soft, casual canvas shoe worn by nearly everyone in the country.
When he learned that many Argentinian children had no shoes — which kept them from going to school and helping out with chores, and exposed them to foot sores and disease — Mycoskie decided to do something. He came up with the idea for Toms Shoes and its pioneering one-for-one model: For each pair of shoes purchased, Toms would donate a pair to a person in need. 
While the idea of social entrepreneurship is relatively new, the desire to do good and make a meaningful impact is at the core of human existence, according to Raj Sisodia, F.W. Olin distinguished professor of global business at Babson College and co-author of Conscious Capitalism and Firms of Endearment. 
"People want meaning and purpose in their lives," says Sisodia. "They want their work to matter; they want businesses to do good. In terms of consciousness and sense of right, people are smarter, more connected and more informed. Why wouldn't you run a business in a way that has a positive impact on every aspect of business while making more money?"
Profits without trade-offs. A growing number of entrepreneurs have mobilized on the one-for-one business model to make social responsibility part of their bottom line while still turning a profit. 
Panda Eyewear, for instance, has a mission to limit the environmental impact of producing eyeglasses and other accessories. The company produces high-end sunglasses handcrafted from sustainable bamboo as efficiently as possible, leaving behind minimal waste. And with each eyewear purchase, Panda shares the proceeds with the Optometry Giving Sight organization, which provides eye exams, and helps to fund vision centers for the 700 million people still living without access to eyewear. 
Medical apparel maker Figs has applied a similar approach with its Threads for Threads program, donating a pair of scrubs to a healthcare provider in a developing country for every pair purchased on their site. Outerwear company Twice as Warm has a "wear one, give one" mission, in which they donate items to local shelters. And for every item purchased, Hand in Hand donates a bar of soap and a month of clean water to a child in a developing country. 
The good news is that the social impact bottom line does not come at the expense of the financial one. In Firms of Endearment: How World-Class Companies Profit from Passion and Purpose, research shows that socially responsible companies outperform their profit-only counterparts in the market nine-to-one over a ten year period. "This is not about trade-offs," Sisodia said. "It's about creating all sorts of value — social capital, intellectual capital, emotional capital, social well-being, physical well-being, ecological well-being and a positive impact on the culture."
Business solutions for social problems. Creating that sort of multidimensional value is exactly what CEO and cofounder Miki Agrawal set out to do when she founded Thinx. A former professional soccer player, Agrawal wondered about the lack of innovation in menstrual hygiene, a category that concerns more than half of the human population.
"I discovered it was a $19-billion industry, and there had only been three innovations in the entire 20th century: tampons, pads and menstrual cups," says Agrawal. "Why? Why in a product that women require their whole lives?" 
On a trip to South Africa for the soccer World Cup, Agrawal discovered that 500 million women globally had a lack of access to menstrual hygiene products. "I realized that 100 million girls were missing a week of school because of their periods. Girls were using sticks, leaves, mud, rags, bark, plastic bags, mattresses — whatever they could find to manage their period," says Agrawal. 
Building on the Toms one-for-one-model, Thinx adopted a buy-one-fund-one model that aims to help women while also enabling and empowering the local economies of the countries they wanted to reach. 
"We knew the easiest way to get girls back in school was to just give them a pack of reusable menstrual pads, but we knew that it would create a welfare model instead of an empowerment model," says Agrawal. Rather than "cannibalizing" the local economy, the Thinx founders looked for companies in developing countries that were already addressing the issue of menstrual hygiene. 
"We found a company in Uganda called Afripads that was making washable reusable cloth pads and selling them at an affordable price and partnered with them," Agrawal said. For every pair of Thinx underwear sold in the United States and abroad, the company donates funds to make a pack of reusable menstrual pads that should last over a year. 
Afripads can afford to sell the pack to a local child at a lower price because Thinx pays for the cost of making the pads. "So now a girl can afford them, Afripads can make their margin and we get to empower that," says Agrawal. When the company started working with Thinx, Afripads had 25 employees. Now it has 175 employees, and the partnership has helped tens of thousands of girls to go back to school, according to Agrawal.
According to Sisodia, embedding social responsibility into a company's model and mission isn't just good for the bottom line, it helps entrepreneurs to create a company culture that celebrates social good as inherently connected to the company's profitability. 
"In fact, a shocking statistic is that 87% of people are disengaged or hostile to their work," said Sisodia, adding that many people "feel they work at a company that doesn't care about them. The levels of stress and depression are at epidemic levels. Work is literally killing us."
When you have leaders that only care about power and profits, Sisodia says, they end up with corporate cultures ruled by fear, stress and ultimately poor performance. Companies that are truly socially conscious can thrive by making the welfare of their customers and employees alike an essential part of the bottom line.