How much is the Nintendo Switch? Price, release date and everything you need to know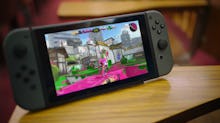 Alright, so you just saw that Nintendo Switch commercial that aired during the Super Bowl, but you need more information, right? When does this thing come out? How much does it cost?
Don't worry. We've got you covered.
Wait, back up. Can you just explain what the Switch is? How does it work?
The Nintendo Switch is a brand-new video game console. You can hold it in your hands and play it like a Game Boy, but you can also plug it into a dock that will allow you to play on your TV, like a regular home video game console.
It has little controllers — called Joy-Cons — that look like Wii remotes. You can attach these to the tablet itself when you take it on the go.
How much is the Nintendo Switch?
Nintendo's new console costs $299.99. That price includes the handheld tablet-looking thing, the dock that lets you play on your TV, the two Joy-Con controllers and all the usual safety straps and cords you'd expect. No games are included.
If you want to use a more traditional controller — like the ones you use for PS4 and Xbox One — you can also purchase the Nintendo Switch Pro controller separately. It costs $69.99.
When is the Nintendo Switch's release date?
Nintendo's new console will be available on March 3. 
Can I preorder the Switch?
A number of retailers — like Amazon, Best Buy, Target and GameStop — are offering preorders, but availability is likely to change as that date gets closer. 
If you really want to get a Switch on launch day but see that gut-sinking "this item is currently unavailable" error message, some sites — like Amazon and Best Buy — can notify you when it's back in stock.
More Nintendo Switch news and updates
For more info on the Nintendo Switch, check out details on the console's price, release date, preorders, battery life and our hands-on review. If you're interested in the Nintendo Switch's games, here's info on the new Super Mario Odyssey , Legend of Zelda: Breath of the Wild, Splatoon 2, Xenoblade Chronicles 2, 1-2-Switch and the goofy boxing game Arms.