Where did Lady Gaga get her stage name from? How Stefani Germanotta became a pop star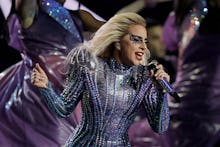 Lady Gaga's Super Bowl halftime show thrilled her fans and introduced anyone who hadn't heard of her (there might have been one or two left) to the ostentatious singer-songwriter and her splashy performance style. The unenlightened few might have been wondering how the singer, who featured a message of inclusion (as well as drones) in her performance, decided on her unusual and unforgettable name. 
Born Stefani Joanne Angelina Germanotta, the New York City native began studying classical piano, acting and, of course, singing at a young age. She has openly discussed her childhood, which she said was filled with bullying, and how art has helped her with self-reflection. 
After leaving her Upper West Side family duplex and dropping out of New York University's Tisch School of the Arts, Gaga was briefly signed to Def Jam records in 2006 before she was signed to Interscope Records in 2008. It was when producer Rob Fusari, one of her early collaborators who sang the Queen song "Radio Ga Ga" to her, that the chameleon adopted her stage name. 
Queen, a British glam-rock band, had long an been an influence on Lady Gaga, as well as Elton John, with whom she would perform a duet with in the 2010 opening of the Grammy Awards. Andy Warhol has also been cited by the singer-songwriter as a key influence in her work. 
The six-time Grammy winner has said she prefers to be called Gaga, and her mother addresses her with her stage name. But, despite her rapid-fire transformation from bullied teenager to global icon, she told Rolling Stone that she's "always been Gaga." 
Mic has ongoing coverage of Lady Gaga. Please follow our main Lady Gaga hub here.