Showtime's new 'Twin Peaks' promo is a reminder of the power of coffee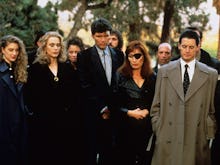 The people at Showtime have given fans of Twin Peaks the greatest New Year's gift: They decided to stream the first two seasons of the show, which ran on ABC in the early 90s, leading up to the newest, 18-episode season of the surreal drama premiering on May 21. 
While we still haven't seen new footage from the upcoming revival — instead we got a short promo of David Lynch eating a donut — Showtime has now released a new, equally unrevealing promo. It shows a montage from the past two seasons, featuring some of our favorite characters doing one of our favorite things: drinking coffee.
"Damn good coffee"
The original Twin Peaks series concerns itself with the mysterious death of the teenage Laura Palmer, and, as a result, is a mostly dark and ominous series. However, there are moments of levity, particularly an ongoing gag about Agent Dale Cooper's obsession with coffee. "Damn good coffee," he repeats throughout the series (and in the video above). 
Lynch himself is an avid coffee drinker, so much so that he spoke about the caffeinated beverage at length in an interview with Munchies. "Coffee is part of the art life. I don't know quite how it works, but it makes you feel really good and it serves the creative process. It goes hand in hand with painting for sure."
He even has his own blends, three different ones sold under the "David Lynch Signature Cup Organic Coffee" label. 
Lynch also decided to incorporate coffee two years ago when he used the hashtag #damngoodcoffee to announce the revival with Showtime.
Given the the tweet and his latest promo, we can only assume the coffee obsession will be a returning bit in the upcoming series. 
Twin Peaks will premiere on Sunday, May 21 at 9 p.m. Eastern on Showtime. 
Mic has ongoing coverage on Twin Peaks, which you can check out at our hub over here.