Melissa McCarthy and 'SNL': From Sean Spicer to Arlene the office flirt, here are her best moments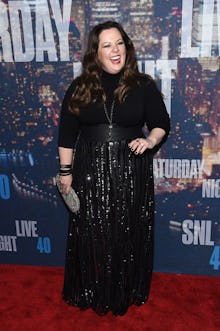 By now, you have undoubtedly seen Melissa McCarthy's unhinged impersonation of White House press secretary and noted gum-eater Sean Spicer. Not since, well, Alec Baldwin's squinty Donald Trump and Larry David's curmudgeonly Bernie Sanders, has a Saturday Night Live casting choice been so inspired. 
But McCarthy's portrayal of Spicer – who called SNL "mean" and said he felt the actress could "dial back a bit" – was but one of her greatest performances. Her mastery of genius physical comedy and commitment to over the top eccentrics made her turn as a raving Spicer all but inevitable.
From Spicer to Arlene the office flirt, here are McCarthy's best SNL characters:
White House press secretary Sean Spicer
Sean Spicer made his debut as White House press secretary by scolding the media for its accurate coverage of Donald Trump's inauguration crowd. Since then, we've learned that Spicer eats two and a half packs of gum every day before noon, has a longstanding hatred of Dippin' Dots and may have begun hating the press after his college newspaper referred to him as "Sean Sphincter." 
Enter Melissa McCarthy, who on Feb. 4, donned Spicer's signature ill-fitting suit to chew gum, yell and attack "nerds" in the press with his podium. 
Rhonda the pick-up artist
In this 2016 sketch, a group of women try out some pick-up techniques at a bar, but McCarthy's bespectacled Rhonda doesn't quite get it, to such hilarious effect that co-star Leslie Jones finds it hard to stay in character.
Basketball coach Sheila Kelly
In 2013, shortly after video emerged of then-Rutgers basketball coach Mike Rice abusing players during practice, McCarthy starred in an Outside the Lines parody as a deranged women's basketball coach named Sheila Kelly whose actions — throwing toasters at players and shooting at them with a T-shirt cannon — make Rice's behavior "seem gentle" by comparison.
Cousin Gert on The Lawrence Welk Show
McCarthy joined Kristen Wiig and co. for this 2011 spoof of the classic variety show. With Wiig as the doll-handed Dooneese, McCarthy's Gert eats a pumpkin and saws down a tree with her teeth.
Linda, the Hidden Valley Ranch taste tester
For this 2011 sketch, McCarthy's unglued Linda gets a little too enthusiastic as a member of a focus group for Hidden Valley Ranch.
Arlene the office flirt
In 2011, McCarthy introduced the world to Arlene. an aggressive office worker who goes to extreme lengths in an attempt to seduce her coworker Tim, played with polite distress by Jason Sudeikis.