iPhone 8 vs iPhone X: What will the next iPhone be called?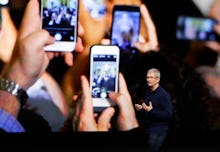 The next generation of the iPhone is slated to release in 2017. The device will reportedly be extra special, as 2017 marks the 10th anniversary of Apple's iPhone. Adding to the hype is what CEO Tim Cook had to say about the next model during Apple's quarterly earnings call.
"I think the smartphone is still in the early innings of the game," Cook said, according to Express. "I think there's lots more to do. Every year, I think it becomes more important to people's lives, there's more things people are doing with it."
It's unclear what this new device will be called, but there are some possibilities. If Apple follows its phone-naming pattern, the next-gen handset should be called iPhone 7S. But on such a momentous year, it would also make sense for Apple to go from the iPhone 7 to the iPhone 8.
There's also the possibility that Apple will step away from its usual names and call it something different, according to Wall Street analysts. It could be called the iPhone X. "X" refers to the Roman numeral for 10, which would be fitting for the smartphone releasing on the 10th anniversary.
Regardless of what Apple decides to name its new iPhone, the device is rumored to feature a curved OLED screen, a DCI-P3 Color Gamut, an iris scanner and to be missing a home button. Apple is also rumored to be launching three models — a 4.7-, a 5.5- and a 5.8-inch phone.